F1 Racing Championship
UbiSoft's gorgeous F1 game is a great first choice for sim enthusiasts.
There was no shortage of F1 games at around the early 2000s, whether we're talking about Psygnosis' long-running F1 series, EA's F1 2000 or UbiSoft's somewhat older but still remarkable F1 Racing Simulation. Not being completely green around the gills, UbiSoft gave us yet another take on the genre with F1 Racing Championship, debuting on both PC and consoles such as the Dreamcast or PlayStation.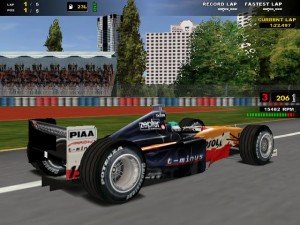 All 22 drivers and 11 teams from the 1999 Formula One World Championship are featured, as well as the 16 tracks. F1 Racing Championship places itself on the higher end of the racing sim spectrum. The latter is considerably felt when you look at the game's impressive variety as far as car customization and the oodles of viewing modes. Damage is disabled by default but switching it on will reward you with plenty of flying plastic debris and lost performance after sustaining heavy crashes. Controlling the car around corners and barely maintaining traction on grass or dirt feels appropriately challenging.
There's a championship mode but you have free access over all of the game's tracks and drivers from the quick race menu, and an included Time Attack mode lets you establish lap records as well as really better your own driving. One of the most clever aspects of the game are the color-coded braking warnings, which let you know precisely when and how much braking you should apply when navigating corners, an invaluable learning aid, as well as 'preferred path' indicators that guide you along the quickest route.
The biggest fault with the driving is the AI, which seems completely oblivious to your position and tends to barge in at full speed on fixed paths, occasionally driving you off the road if you happen to get in its way. Overall both the ingame graphics and menu systems have been much improved since their PlayStation days. The game is simply beautiful – the cars look superb up-close, and the ingame menus are sleek and stylish.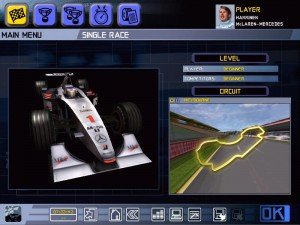 There's some strange design thrown in there alongside with the good. For instance there's an odd bug that hides the ingame race menu, so when you press Escape during a race you don't see the normal exit or restart options. In championship mode you have to enter pit stops just to access the menu, but this approach also lets you save or load games, a godsend for extremely prolonged racing events. On the whole it's a fun game with a few glaring faults (most notably the AI), but if you're even marginally interested in F1 then this strangely obscure yet remarkably stylish racer should fit the bill.
---
System Requirements: Pentium II 300 MHz, 64 MB RAM, 100 MB HDD, Win95/98

---
Tags: Free F1 Racing Championship Download Full PC Game Review