Worldwide Soccer Manager 2006
Sports Interactive has bought Worldwide Soccer Manager a long way since the early days, implementing a visual match engine as the main highlight since. Football Manager 2006 admittedly doesn't improve much over its predecessors, the main reason being that 2005's effort was pretty good to try and top. The 2006 build improves upon an already great product.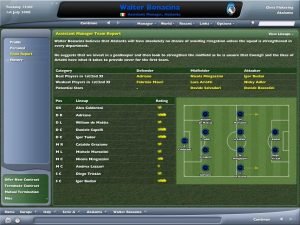 The training model in past versions was often accused of being over-complicated – you design a schedule for the whole week divided by time of day – and as such many people just stopped fidgeting with it or simply downloaded schedules online. The developer addresses this in 2006. The manager will now assign the coaches to certain skill sets like shooting, set pieces, or fitness. Individual player's reaction to their training regime is much easier to view on their player page, and a handy graph will help you chart their progress over the last 12 months.
Speaking of player pages, Football Manager will now show you what positions on the field the player is good at, average or mediocre at, or completely untested at. This is helpful when you get the injury bug and need to find a stop-gap player that can get you through the next week. Your manager page now has a summary that shows your "snapshot†in time. Listed is your next match, your current position in all of the competitions entered, a financial summary, and your leaders in a few statistical categories. It's great to have when you need a broad overview of your progress.
During matches, managers now have more control over the players with the use of "quick tacticsâ€. While the game is being played, managers can make tactic changes or give team instructions on the fly without stopping the match. The computer AI will also adjust their tactics as appropriately. The 4-5-1 comes out to try and preserve a victory and the 3-3-4 will come out if they are trying to get back into a cup tie. Also, Football Manager 2006 introduces the ability to give your team a halftime and fulltime talk. If you think your lads are lacking any fire, you can question their passion for the match or go the other route and give them encouragement.
Media manipulation and player interactions are definite high points. For both, multiple choice responses give you much more of a chance to shape what kind of manager you want to be, and it's consistently fun to be able to do so. The only thing missing is some sort of stat or page showing how these responses affect players. At the moment, morale is too complex a means to measure how team members feel, relegating your input in this regard as an unknown factor.
For those that get lost in the depth of this game, there is now a tutorial available to the user, making these one of the more approachable manager games for people to get into. Granted, the amount of complexity one has to grapple with here will make it more than a challenge for any serious manager fan as well. In this context, of course, that's an unquestionable positive.
---
System Requirements: Pentium III 500 MHz, 256 MB RAM, Win98
---
Tags: Free Download Worldwide Soccer Manager 2006 Full PC Game Review