Grand Prix III
Grand Prix III is a great simulation that misses out on a few promised features.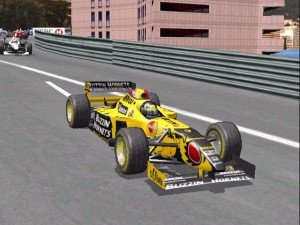 The Formula 1 racing genre started to become increasingly crowded as the new millennium began, but MicroProse carved the genre out with their primordial Grand Prix series. By the end of its four-year long developmental cycle the expectations were skyrocketing – the game would have fluid internet play for a full field of 22 players, a new hi-resolution graphics engine, the latest tracks and teams of the 2000 season would be included, weather and a career mode that would add depth to the title. With the exception of wet weather racing, none of this has come to pass.
The game's based on the 1998 F1 season, lacks a career mode, and doesn't ship with a completely re-written graphics engine. This is all underwritten by the fact that GP3 borrows heavily (too heavily) from its successor, the highly regarded Grand Prix 2, considered by many the ultimate F1 simulation. But Grand Prix 3 has it where it counts – it's a damn fine open wheel sim.
It would take far too much space here to discuss the Garage and Telemetry menus. If you're a beginner, you can be competitive with the Rookie setting, but keep in mind that as you progress towards semi-pro you will need to adjust your car set-up in the garage to keep up with the pack. In preparation for your first race you're presented with an abundance of choices. Take a short cut and go for a Quick Race, which allows you to select your starting position, or choose Practice, (great for hot laps), Non-Championship Race or Championship Season. Select your favorite Team and Driver (thankfully GP3 lets you use your own persona); and pick a level of difficulty from Rookie to Ace that matches your driving ability. Grand Prix 3 also includes numerous driving assistants such as Auto Brakes, Auto Gears, Throttle Help, Steering Help, Suggested Gear, and others that when activated makes the car nearly drive itself.
Breakdowns include Suspension, Engine or Transmission Failure, Puncture, Loose Wheel, Oil or Water Leaks, Brake and Electrical Problems, and Throttle. All of the breakdowns were active during testing and only a Brake Failure occurred, which the pit crew amazingly repaired in about 14 seconds, including a four-tire change and a tank of fuel. Other drivers suffered other problems as smoke emanated from blown engines.
Graphics overall are middle of the road. Background images are realistic, obviously painted by artists who enjoyed their work. Pit crews are nothing more than 2D sprites, capable of completing their assignments at a rapid pace, regardless of how many repairs may be required. Trees are blocky and pixilated, though you'll never notice while racing.. Cars are a blend of 2D bitmaps and 3D polygons, which snap into full 3D polygonal glory when up close; otherwise they're a bitmap representation. Switching between 2D bitmaps and 3D polygons is unnoticeable unless you actively look for it.
Racing in GP3 is excellent, drivers don't get too close, remaining within striking distance and always behave like professionals. Engine sounds are very well done, so well in fact that you can time your shifts by sound alone, eliminating the need to take your eyes off the track to view your RPM display. Crash sounds have a realistic, weighty feel while skids and driving over curbing are properly queued. Sadly, that's about it for sounds. Your crew chief is silent, your opponent's engines are silent, and the crowds are silent.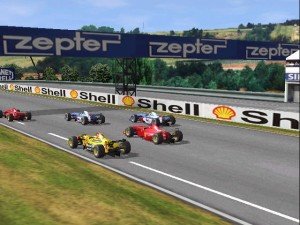 What makes GP3 a worthy successor is that Geoff Crammond and company did implement what is most important: solid gameplay based on legitimate physics code and a very credible AI component, which should come as no surprise, it's in the bloodline. Grand Prix 3 is full of ups and downs, but always seems to get it right where it counts the most—in flat out racing. It's accessible to beginners, runs fluidly on a wide range of hardware and incorporates some very nice environmental effects in its tracks. Grand Prix 3 is unquestionably the most well rounded F1 simulation on the market.
---
System Requirements: Pentium 266 Mhz, 32 MB RAM, Windows 95/98

---
Tags: Free Grand Prix 3 Download Full PC Game Review