F1 2000
EA Sports tries its hand at Formula 1 racing.
EA covered just about every venue of sports racing, be it from the driving wheel of NASCAR 2000, Mobil 1 Rally Championship or from the seat of an imperfect Superbike 2000. Unwilling to rest on their laurels EA Sports enters the Formula 1 World Championship arena for the first time with F1 2000, which adds all of the cars, tracks, and drivers from the official Formula 1 2000 Championship Season, including the Jaguar team, Williams-BMW team, and the US Grand Prix circuit at Indianapolis. The only sponsors missing are tobacco and alcohol advertisers; everything else has been fully recreated.
Game modes include Championship (full season), Grand Prix (1 weekend), Quick Race, and Test Day. All tracks and cars are available in any of the modes, as are car setup options. F1 2000 delivers an incredibly realistic and believable physics model. At full realism, it's doubtful that hardcore sim fanatics will find much to complain about regarding this driving model. After completing several laps you'll begin to discover what your car is capable of and where it may need improvement.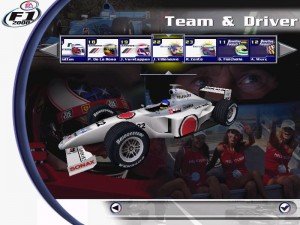 The garage area contains comprehensive setup options, where each tweak is unquestionably felt back out on the track. Oddly, telemetry is missing completely, leaving you with lap time information and driving feel as the only way to gauge the effectiveness of your setups. For those just entering the field, F1 2000 offers numerous driver assistance settings including steering, braking, shifting, throttle, and spin recovery. These allow virtual racers of all abilities to get into the game. On the lowest realism setting with all driving aids turned on the cars are a snap to drive.
Computer controlled drivers are unforgiving, and this is true not only of aggressive drivers such as Eddie Irvine. All of them will challenge you for every inch of track, lap after lap. This level of intensity becomes addictive due to the excellent physics and good graphics powering this ride. Breakdowns are also a constant threat, such as a stuck throttle or a gearbox failure.
Engine sounds are a bit synthetic, lacking some of the ground shaking bass these cars are capable of producing, although sounds of cars streaking by on other portions of the track are convincing. Screeching tires are properly timed, audibly warning you when you have reached the limits of adhesion. Your crew chief does an admirable job of keeping you up to date on crash events, how you're doing and providing upcoming pit information. If you have the patience, and determination, F1 2000 is worthy of your attention, being one of the finer racing sims of 2000.
---
System Requirements: Pentium 200 Mhz, 32 MB RAM, Windows 95/98,

---
Tags: Free F1 2000 Download Full PC Game Review