Vintage Gaming Magazines
Computer Gaming World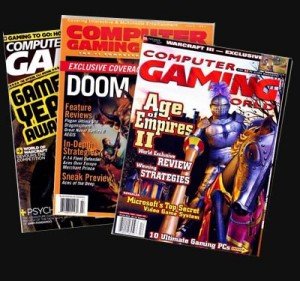 Language: English
Here it is, the Holy Grail of vintage computer gaming, as caught on printing paper. Computer Gaming World is a wonderfully complete archive that spans 26 years. CGW first rolled the presses in 1981 and saw the fall of Commodore, the advent of 3D graphics and the rise of the almighty Internet. That's a long way of saying it's really old.
But what's even better is that every facet of those 26 complex years were caught and archived. Every one of CGW's 268 issues have been scanned and made available as free downloads, a monumental feat in its own right.
Download PDF: www.cgwmuseum.org
---
PC Gamer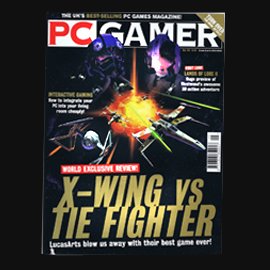 Language: English
As one of the most popular gaming magazines on the planet, PC Gamer was originally founded in 1993 in the UK. The magazine features news on hardware and software developments, reviews of popular games and a reader feedback section. The game also came packaged with a floppy disc starting with issue 11, much later expanding to include CD's and DVD's.
An American version of PC Gamer was eventually created. The bottom link features the UK issues of the magazine from 1993 to 2003. Be sure to also download the US version of PC Gamer. Also grab scattered fragments of PC Gamer here
Download PDF: www.oldgamemags.com
---
PC PowerPlay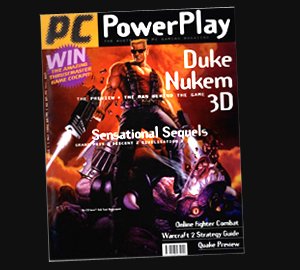 Language: English
Currently Australia's only remaining PC gaming magazine, PowerPlay focuses on news and reviews for upcoming and newly released games for Windows.
A number of notable sections can be found in this magazine, including reviews of popular games, reviews of older 'bargain bin' games, various articles on hardware and sofware developments, one section dedicated to building the most powerful gaming rig avaible at that time, and another section directed at 'reflecting on the state of games today in relation to older, obsolete games and genres', among many other features. The magazine started out in the mid 90's, as seen from the right cover sample showing the Duke himself.
Download PDF: www.oldgamemags.com
---
PC Zone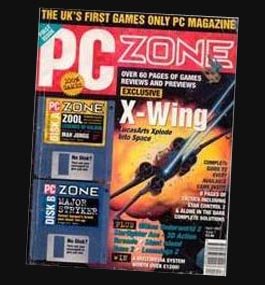 Language: English
Founded in 1993 in the United Kingdom, PC Zone was renown for its broad appeal to computer geeks. The magazine covered gaming, hardware and software reviews as well as employing reader feedback to better its content.
The last issue of PC Zone was printed in 2010. I have yet to find a complete archive of the magazine but a rough equivalent of about 40-50% of its issues may be found on archive.org, where you can also download the CD versions of this magazine as well. Just type in 'PC Zone' on Archive.org and download each individual magazine issue.
Download PDF: www.archive.org
---
Maximum PC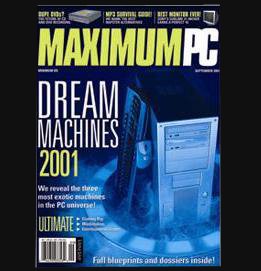 Language: English
A professional magazine based in United States that takes a primary focus on software and hardware reviewing, but which also allocates a light section on computer gaming.
A great means of examining how hardware has changed during the course of the last decade, but also a cool resource for finding PC-related tutorials for older systems and software. Unfortunately, the archive linked below is incomplete, as it stores issues starting from early 2004 (even though the magazine was first published in 1998).
Download PDF: www.maximumpc.com
---
Adventure Lantern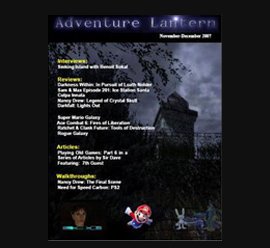 Language: English
Much like The Inventory (see below), the Adventure Lantern is a terrific resource for adventure gamers around the world. It started out in 2006 and is going strong even today as a completely free PDF editorial.
From their official website: "Adventure Lantern strives to provide monthly issues of a downloadable gaming magazine in PDF format. Our site is primarily focused on adventure games. However, we are trying to provide information about games across all platforms and genres. Our goal is to eventually build up comprehensive archives.
We are continually working on adding reviews and walkthroughs of older games to our archives. We are also trying to compile our monthly issues with the latest gaming information available. Our entire site is driven by the volunteer efforts of our small staff."
Download PDF: www.adventurelantern.com
---
The Inventory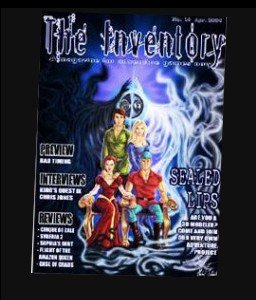 Language: English
As a magazine dedicated to adventure gaming, The Inventory offers great insight on just about any adventure game released between 2002 and 2005. Colorful imagery and thorough reviews make this magazine a joy to read.
For some time, the magazine was featured on www.justadventure.com
From their website: "Just Adventure was founded in 1997 by Randy Sluganski. Just Adventure started out as a simple forum where friendships were started that carry-on until this day. The site then started expanding with articles, and thanks to the dedication of Randy and many others, turned Just Adventure into one of the largest and most visited web sites dedicated to all platforms of adventure gaming.
For many of us, our adventure began in the early eighties, in a white house with a game called Zork. That same spirit of adventure continues to this day. For those of you new to the genre think of Just Adventure as the starting point for a future of excitement and friendship as adventure gamers around the world gather to share, learn & enjoy the wonderful world of Adventure games!"
Download: www.mediafire.com
---
Retro Gamer Magazine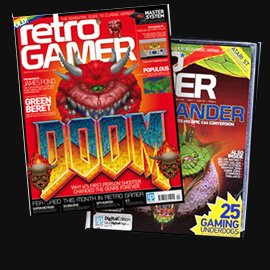 Language: English
Retro Gamer is a modern magazine that first saw light in 2005, covering legacy gaming in all its forms and flavors ever since. Unfortunately, there's no definitive PDF archive of Retro Gamer, and whatever is online is in scattered form. The only trustworthy place I could find this in PDF format is on www.ebook3000.com while CD editions can be grabbed on www.archive.org. Finding physical copies on Ebay is also possible.
From Wikipedia: " Retro Gamer is a British magazine, published worldwide, covering retro video games. It was the first commercial magazine to be devoted entirely to the subject. Although launched in January 2004 as a quarterly publication, Retro Gamer soon became a monthly. In 2005, a general decline in gaming and computer magazine readership led to the closure of its publishers, Live Publishing, although the rights to the magazine were later purchased by Imagine Publishing"
Download: www.ebook3000.com
---
Level
Language: Czech
A gaming magazine from 1995 that started out in the Czech Republic and which focused entirely on computer gaming. From what I could gather, this magazine is still running.
Download: www.oldgames.sk
---
XtremPC

Language: Romanian
Description: A Romanian-based magazine that covered a broad range of PC related topics. Although primarily reviewing hardware and software products, it does have an entire section allocated to PC gaming. Again, a useful tech archive that's available in marvelous PDF.
Download: www.mediafire.com
---
Game Over

Language: Romanian
Romania's first gaming magazine that went bankrupt towards the end of the 90's.
Download: www.mediafire.com
---
Computer Games RO

Language: Romanian
Description: Not to be confused with the British editorial with the same name. This Romanian magazine had less than a few dozen issues printed out and even less survived long enough to be scanned.
Download: www.mediafire.com
---
PC Games RO

Language: Romanian
Description: This is another Romanian magazine that operated between 2000-2005. Almost all of the issues are included, scanned from old copies. All of them, naturally, are in Romanian.
Download: www.mediafire.com