Tips on Running Games
How To Download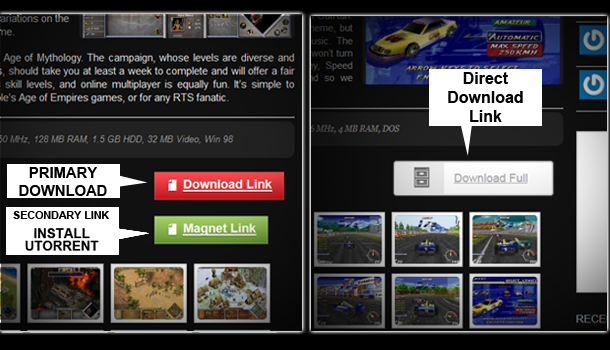 A few quick tips for running games:
Most games here are archived to speed up download times. You'll need WinRar or 7Zip to extract them, and PowerISO to mount the CD image(s) for installation. Google 'how to use PowerIso' for more info. CD Image formats include .bin .iso .mdf .img or .nrg
If after installation the game asks for the CD, look for a crack .exe to copy into the game folder, or leave the correct virtual CD image (.bin, .iso, etc) mounted.
Here's a list of useful programs you'll need to run some of these games.
If the download fails repeatedly midway it might be down to your ISP (Internet Service Provided). Try to reduce your bandwidth and don't download things simultaneously.
Game downloads are essentially divided into full disc versions that you can mount with PowerIso or "ripped" versions.
These "rips" are working games that have some content (intro movies, music, sound effects) removed but are otherwise workable. They may have Setup.exe or Install.exe in the game folder that you must run to auto-extract essential files. Many also have a registry program that must be applied before starting the game.
If you encounter a file divided into numerous archive files (example: game.001, game.002, game.003) then you'll have to open the first file with WinRar and simply extract its contents (it may also have a setup program). If you get an error, it's likely because some archive files are missing (not located in the same folder).
Got an error extracting with WinRar? Then try to use 7zip, or the latest version of WinRar.
Most games have an information (.info) text file alongside the CD file. Open them with NotePad and READ the instructions.
If a 90s era Windows game doesn't run on your brand-new computer, you might want to consider DOWNGRADING to something that the game was actually designed for. Old offline Windows XP SP3 machines are still a great solution for running many old games. For games that XP can't run, use a Virtual Machine to simulate a Windows 98 or 95 environment. Also try to run in XP or Win98 Compatibility Mode.
Some 90s games (Shadow Warrior, Quake 2, Rival Realms) will have music files coded on the CD alongside game files (these come as BIN/CUE CDs). I've found the best solution to playing the music tracks ingame is to run the game in a Win98 environment, and making sure the CD file is mounted on the PRIMARY optical drive within Win98.
To play MS DOS era games on modern operating systems you have to use a DOS emulator, such as DosBox.
Search for CD Keys on Google or look for them in the .nfo file. Also check this useful page.
Green Magnet Link buttons need a torrent client (program) to work.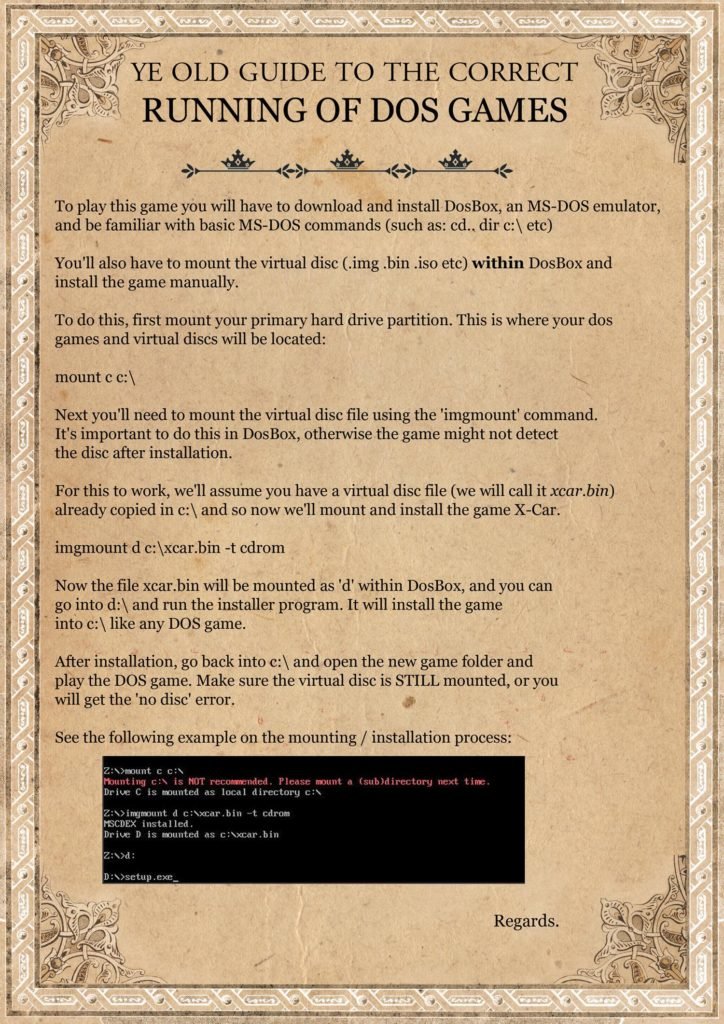 Also remember that it's much easier to run old games by buying them off Steam or GoG.com