Full Tilt Pinball
Maxis brings the arcade to Windows 95.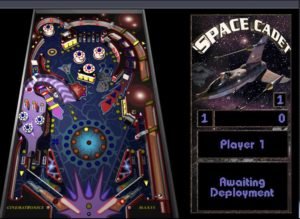 Full Tilt has basically everything anyone could expect from a pinball game running under Windows 95. Opening the game starts an animation that takes you to an old arcade, shows you some snazz, and then brings you to the main menu where you can choose one of the pinball games that Full Tilt has to offer. In addition to starting the games up through the menu, each has its own shortcut, so they can be accessed individually from your start menu. All of this might seem bland, but for people migrating from DOS it was new and fresh.
The tables are fairly well rendered, and quite enjoyable. Unlike most pinball games available for DOS, Full Tilt features a full table view of the action, so the balls never wander offscreen, and you can always plan out the trajectories for those long distance shots. As usual, it features variable plunger pull-back, and table nudging, which are basically required by any modern Pinball sim. Like similar pinball sims, FT includes an extensive multiball, good sound, and little clips related to events in the game.
A few minor things on the con side though. Full Tilt only includes three pinball games, one of which, Space Cadet, was first included in the Plus! pack for Windows 95. Three tables is one too few nowadays, with everything since Epic Pinball generally containing four. All tables are well designed though. Gameplay is straightforward, and doesn't require any reading of the help files to figure out what you need to do.
---
System Requirements: Pentium 100 MHz, 16 MB RAM, Win95
---
Tags: Full Tilt! Pinball Free Download Full PC Game Review