Star Trek Pinball
Boldly go where many other pinball games have gone before, with Interplay's Star Trek Pinball. Knock the ball around with the flippers, hit things, get points, and don't let the ball go down the side chutes, or in between the flippers and out of play. In addition to the two flipper buttons, you also can tilt, or move, the table by using the left, right, or up tilt buttons. Each has the same effect as if you were playing on an actual stand-up table and shoved it left, right, or forward. This allows you to manipulate the ball's path and is quite helpful in keeping the ball on the table and making it go where you want. If you overdo it with the tilt buttons you'll "tilt†the table and lose the current ball.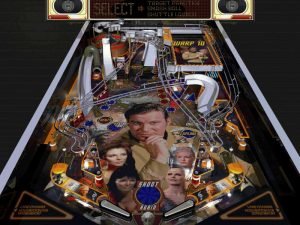 Star Trek Pinball offers three tables for play, two single play tables (To Boldly Go and Qapla') and one multiplayer table (Nemesis). You can have up to four players play during either of the single player games, with each playing one ball at a time in turn. Nemesis is designed for simultaneous, competitive two-player play. Despite what you may think, there's no real storyline that ties the tables together like in Sierra's 3D Ultra Pinball. However, each table does have a number of things going on that make the game more interesting and give the potential for higher scores.
Beyond the rather simple chutes and targets, both single player tables have numerous features that are a bit more challenging to say the least. One ramp on the To Boldly Go table gives you a choice of three separate challenges: smash ball, shuttle launch, and target practice. In smash ball you must knock a pinball that is moving on a preset course of its track, which gains you both points and multiball play. Choosing shuttle launch gives you five targets, one at a time, which you must hit in succession in order to gain the bonus. Activate the warp power flippers feature and you'll be able to access other parts of the table not otherwise available, thanks to the increased power of your flippers.
---
System Requirements: Pentium 90 MHz, 16 MB RAM, Win95
---
Tags: Free Star Trek Pinball Download PC Game Review