Balls of Steel
With quality tables, good action, and even an appearance by Duke Nukem, Balls of Steel, the long-developed game from Pinball Wizards, tries its best to not be just another pinball game. The tables are saturated from top to bottom with well-drawn art; aside from some cool pyrotechnic effects that pop up here and there, these could be actual tables in a real arcade. Ball physics are excellent; every ricochet looks and feels natural and predictable. The only hole in the physics engine comes when you nudge the table, the effect of which is a bit too exaggerated.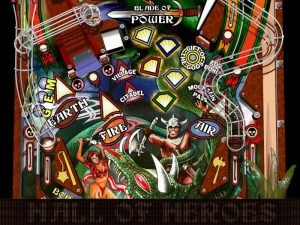 Each of the tables is well done, with ball traps, chutes, tunnels, multiple flippers and all the cool stuff you're likely to find in modern pinball machines. The pick of the litter is Firestorm, whose theme concerns a mad bomber raging through a city. Mutation, featuring a mad scientist, is appropriately slimy looking. Barbarian, a sword and sorcerer table, features amusing voice clips. Rounding off the quintet are an alien menace table called Darkside and Duke's table, complete with voiceovers from the trash talkin' badass himself.
Each of the tables has its own objectives and bonus rounds that are overviewed in the game's intuitive front end. You can choose between three difficulty levels and a Tournament mode, which connects to the web through your ISP and posts your score on an Internet site (www.worldscores.com). Another nice feature lets you choose between viewing a small version of the entire table or a full screen, vertical-scrolling view that shows a third of the table at a time.
---
System Requirements: Pentium 100 MHz, 16 MB RAM, 50 MB HDD, Win95
---
Tags: Balls of Steel Free Download PC Game Review