Burnout: Championship Drag Racing
Burnout: Championship Drag Racing is a sim based on the world of sports drag racing. If you think drag racing is about as much fun as watching paint dry, Burnout will do little to change your mind. However, if you enjoy the idea of tinkering with every aspect of your vehicle to get that one extra performance boost, then Burnout might be for you.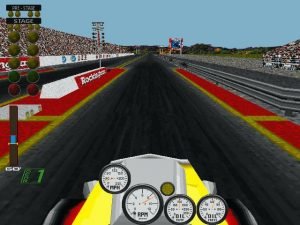 Much like real-world drag racing, the core gameplay of Burnout is based on two simple ideas: tooling down the track at insane speeds and building and fine-tuning a car. In both respects, Burnout delivers without a hitch. While most racing games allow you to tinker with settings through a predefined range, in Burnout, you're given free reign to customize every aspect of your car through an intuitive interface comprised of pull-down menus and graphs. There are literally hundreds of things to consider: engine size, number of cylinders, intake and exhaust valve size, compression ratios, timing, tire size, exhaust diameter, etc.
While you'll get the most out of the game if you buy into the concept of constantly tweaking and refining your car to compete against cars of the same class, it's possible to bypass the garage and head straight for the track by entering bracket racing competitions. In bracket racing, you select an estimated time based on your practice runs, and attempt to meet that time — usually within a few hundredths of a second — without going under. Additionally, you can set the game for a quick race against a random car, engage in a complete season against up to 64 computer-controlled cars, or race against like-minded players via LAN.
---
System Requirements: Pentium 75 MHz, 16 MB RAM, DOS
---
Tags: Burnout: Championship Drag Racing Free Download Full PC Game Review