NASCAR 2000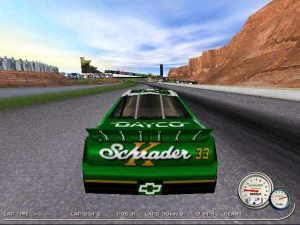 Featuring 18 accurately rendered real-world tracks and more than 30 active NASCAR drivers, NASCAR 2000 certainly carries itself as a heavyweight NASCAR game. In addition to the title's official collection of circuits, there are also a half-dozen fantasy courses and seven Legends drivers. Gameplay options include full weekend single events (with practice and qualifying sessions) as well as a Quick Race menu, a selection of full or abridged Championship calendars and a Race Against the King mode where you take on Richard Petty in ten three-lap events.
Once you get past its luscious visuals and rich sound however, NASCAR 2000's sense of realism jumps into the back seat. Although the physics modeling represents a huge step up from Revolution, it really doesn't come close to capturing the proper dynamics of NASCAR racing. Understeer is reasonably well-modeled, but it is almost impossible to generate an oversteering slide no matter how hard you slam your steering wheel around.
A comprehensive garage menu is included, but a goodly number of the offered adjustments are little more than non-functioning placeholders that have no effect whatsoever on the car's performance. Try as it may, NASCAR 2000 can't really approach the quality shown in Papyrus' more solid racing series that this game is competing against.
---
System Requirements: Pentium II 233 MHz, 32 MB RAM, Win95
---
Tags: Free NASCAR 2000 Download ISO PC Game Review