XCar: Experimental Racing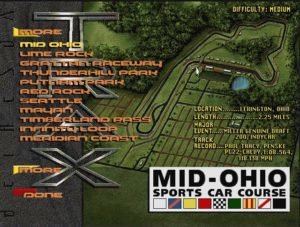 You might expect differently from the title, but X-Car actually isn't an arcade racer. From crashes and spins to the overall sense of speed, the game does a better-than-usual job in simulating the experience. It's a subjective argument, especially considering the hypothetical nature of the vehicles featured in X-Car, yet Bethesda claims there are actual physics at work. The idea behind the game is unrestricted, unregulated free-for-all racing, where speed-draining rules are tossed out the door. The only thing standing between you and the winner's circle is raw horsepower.
This is a shame, because there really are a lot of promising features that could've made XCar a cut above the rest. For starters, there is the unbridled horsepower of 16 closed-wheel prototype cars that you can race on 11 varied tracks (including six based on real race courses). The interface is sleek and efficient, and whether you want to run a single race, conquer all of the tracks in a circuit competition, or just tool around in practice laps, getting up and running takes just a couple of clicks.
The selection of cars is admirable, yet the default cars seem to handle and perform roughly the same, and the tech-heavy descriptions of each make it hard to distinguish one car from another at a glance. An arcade mode softens the blow for first-time drivers, allowing you hop into a car right away and get a feel for each course without worrying too much about crashes. For even more assistance, there are a number of driving aids like auto-braking, auto-shifting, and invincibility that help keep you on track.
But if there is one area where XCar really shines, it is with its built-in car editor. The ability to customize car setups has become a regular feature in nearly every driving game, but the editor in XCar takes this concept to a new extreme. Instead of adhering to the rules and regulations of a governing body like NASCAR or IndyCar, which only allow for modification of certain components within a narrow range, the experimental theme of XCar gives users carte blanche to create and tinker to their hearts' content.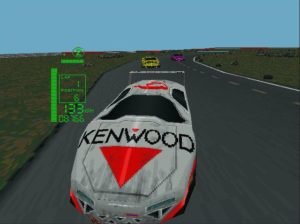 Pretty much anything you would want to modify is represented; engines, fuel, tires, suspension components, paint job, etc, and the interface for the editor is a case study in simplicity. Everything is consolidated on a single screen, making point-and-click modification a breeze. And unlike the hassle of saving your modifications and then wading through several screens to test your car in NASCAR or IndyCar, once you've built your dream car, you can head out onto specialized testing facilities right from the car editor.
If you're not satisfied with hands-on testing and want some numbers to back it all up, you can check out the telemetry data for more detailed information on your ride. Another nice touch is the VCR feature which records a race or test session and allows you to review your performance. As you watch the tape, you'll also be able to view the raw numbers concerning tire temperature, lateral G-forces, and speed as you blow through hairpin turns or head down the straights.
It's only unfortunate that the graphics are about two years behind the gameplay, but still – credit where it's due, X-Car is a complex bit of software. Whether you believe the handling characteristics or not, it is possible to hunker down, stick with it, and accept the driving style on its own terms, and have some fun with this game.
---
System Requirements: Pentium 90, 16 MB RAM, 220 MB HDD, DOS
Can't Run This DOS Game?
Click Here For Help!
---
Tags: XCAR Experimental Racing Download Full PC Game Review