NASCAR Racing 1999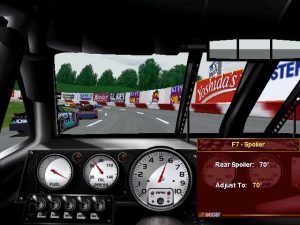 Developed by Papyrus, Sierra's line of NASCAR products is known not for style and flash but for realism and accuracy. NASCAR Racing 1999 has some modest improvements. The graphics are very similar to NASCAR 2, with minor improvements, while the audio, interface, and gameplay are unchanged. What is different here is the presence of 11 new tracks, updated 1998 season information, improved artificial intelligence for computer-controlled vehicles, and the availability of the NASCAR Craftsman Truck Series and NASCAR Busch Grand National Series. Lastly, it runs under Windows 95/95/XP and not DOS.
The game contains over 60 drivers and vehicles spread across 35 tracks. You can tweak just about everything about your cars and trucks, including gear ratios, spoilers, weight distribution, tire pressure, and suspension. A full-featured paint shop allows you to customize the appearance of your vehicle as well. You may play this game in solo mode, with two players over a modem, or with eight players over a network. There is also a very nicely implemented instant-replay feature.
The physics modeling in NASCAR Racing 1999 deserves special mention. There are completely separate physics for cars and trucks, and both reflect a complex and dynamic physics engine that was top of the line back in its time. On the complex but realistic dashboard, you need to monitor closely the fuel gauge, oil pressure gauge, tachometer, oil temperature gauge, and water temperature gauge if you have any desire to finish the race in one piece.
---
System Requirements: Pentium 90 MHz, 16 MB RAM, Win95
---
Tags: NASCAR Racing 1999 Free Download PC Game Review