Worms Armageddon New Edition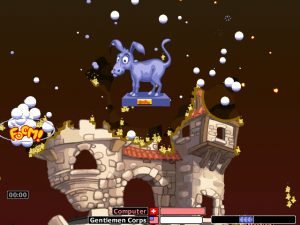 Worms Armageddon New Edition is an easier to install, cranked up version of the original game. It includes more weapons, maps, flags, fanfares and graphics, but has no multiplayer support. That last part is the real kick in the teeth. Sure you can play in two-player hotseat mode or through LAN, but the game won't work on neither GameRanger nor WormNet. The reason for this is that the New Edition is a fan-made version of the original. It can't be updated to the 3.7 patch, unfortunately.
The new maps can be accessed by opening the editor and simply selecting it from the list. It includes some 30 maps taken from either the solo mission campaign or Worms World Party. The other major highlight of this version – and really the only reason you'd want to pick it up for two-player matches – is the greatly extended armory.
You can now play with all of the superweapons maxed out from the start of a match and set their power, delay and supply. This creates a lot of new gameplay options. For example, you can set crate availability to superweapons only, ensuring that any weapons crate you find will contain a superweapon. Utilities such as Jetpack, Low Gravity or Laser Sight, can also be made available or set to infinite supply. Or you can simply select The Full Wormage preset before starting a game, and you will have every – yes, EVERY – weapon in the game made available, including Armageddon.
While it does not have multiplayer – which is a huge letdown – the New Edition of Worms Armageddon makes up for it by adding new guns to smash squirmy enemy worms with, and that's more than we can ever ask for.
---
System Requirements: Pentium 100 Mhz, 16 MB RAM, 2MB SVGA Video, Win95/98
---
Tags: Free Worms Armageddon New Edition Download Full ISO PC Game Review