Race 07: Official WTCC Game
Developer SimBin Studios were behind many high-tier racing sims around the years. They're responsible for the GTR series, a niche title that managed to really get its name out there as a top end racing experience. The same applies for Race 07: The Official WTCC Game, in which fans can expect the same quality and depth we've come to expect from this talented developing house.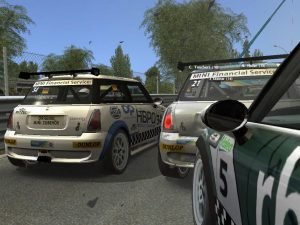 As the game title suggests, Race 07: Official WTCC Game is not just a collection of random cars and events but rather a licensed title featuring the official drivers, cars, and tracks from both the 2006 and 2007 World Touring Car Championship. It doesn't stop there though, as gamers can also enjoy the 1987 WTCC class, Formula 3000 International Masters, Formula BMW, Mini Cooper Challenge, as well as Caterham and Radical events that each have multiple horse power categories to choose from. All of the cars sport accurate paint and markers.
The actual modes you will be racing these cars and classes around in are basically run of the mill when it comes to racing games – you have a one off quick event mode, time attack, practice, multiplayer for both LAN and Online, and a championship mode. As a new driver, your first destination would be either practice or time attack, which gives you complete access to all of the cars and tracks to learn at your leisure. It's here that you can really learn the limits of each car and how the driving model handles turns, momentum and braking.
The racing in Race 07 is brutally realistic, from the excellent engine sounds to realistic crashes that deform your car. You can tone down the realism, but even on the lower setting this game probably won't suit the average arcade driver – and don't even think about playing unless you have a serious wheel controller. The game lets you to define your skill level in one of three groups – starter, semi-pro, and pro – each of which have a 'profile' regarding the game's range of skill related options, which not only include the usual stuff like AI difficulty, auto gearbox and damage probability, but also more advanced stuff like tire wear, traction control, and even the possibility of mechanical failures.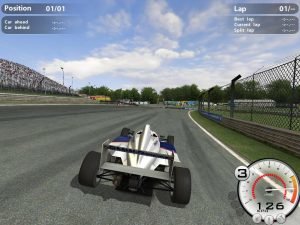 When playing on the game's most realistic settings, you really have to know what you're doing to drive effectively. Part of the challenge is setting up the car before a race, and the options here are extensive. Expect a very detailed car setup system allowing to define settings like tire pressure, ride height and many more for all four wheels individually or as a whole, as well as general overall settings such as engine rev limiter, steering lock degree, gearing etc – the list just goes on and on. This is very advanced stuff that adequately shows just how much effort went into making this game a true racing sim.
---
System Requirements:Pentium IV 3.2 GHz, 512 MB RAM, 2.63 GB HDD, WinXP
---
Tags: Free Race 07 Official WTCC Game Download ISO PC Game Review