Need for Speed: Underground
The once-revered Need for Speed racing franchise has been coasting downhill since the superlative NFS: Porsche Unleashed rolled off EA's production line. With each subsequent chapter, EA has dumbed-down the driving physics to placate the gamepad-equipped console crowd. NFS: Underground takes the racing in a new direction: although the vehicle dynamics are still conspicuously slot car–like, the game itself is easily one of the finest of the series.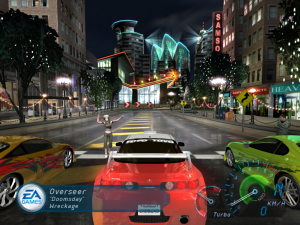 Underground trades in the traditional Ferrari and Porsche racers for 20 licensed street exotics — tuner cars from such manufacturers as Honda, Mazda, and Mitsubishi. The racing action, rooted firmly in the street-racing culture depicted (a bit excessively) in The Fast and the Furious, delivers a high-octane blast of raw speed that'll literally warp your vision as you struggle to match the pace of the AI competition. Stealing a page from EA's defunct Motor City Online, Underground also features a massive customization component, from paint schemes to engine parts.
Although a Quick Race option is available at the front menu, the core of this new NFS racer is its signature Underground mode. You begin with a showroom stock car and work your way through a well-balanced series of circuit, sprint, knockout, drag, and drift events — all through the streets of a traffic-choked fictional cityscape.
You steadily upgrade your ride with new performance and visual mods. The process is extremely addictive (the visual mods won't improve your speed, but they do raise your street cred, thus generating more racing "invitesâ€), and the imaginative and well-implemented drift and drag-racing modes add variety and depth. Unfortunately, a console-style catch-up feature keeps the AI drivers unrealistically close to you much of the time, and the absence of any damage modeling means that grievous driving errors are largely inconsequential.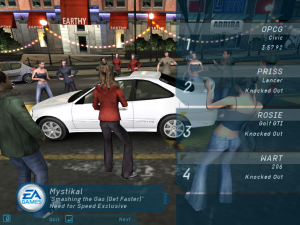 The real star is the graphics. The reflective wet-road surfaces are exquisite, and cool neon lighting effects complement the urban nighttime theme. The cars themselves have been so lustrously rendered that you can easily lose yourself for hours just eyeballing them at the paint-and-detailing screen. Even more impressive is the unique speed-blur effect that kicks in whenever your car hits speeds in excess of 100 mph. Never before in the series' history has the Need for Speed theme been so artfully communicated.
The high-energy soundtrack and well-rendered cut-scenes are equally impressive, but the absence of any replay screen (or an in-car cockpit view) is an inexplicable oversight in a game of this type. But the singleplayer experience really earns Underground a spot on the hard drives of PC driving-game enthusiasts.
---
System Requirements: Pentium III 700 MHz, 128 MB RAM, 1 GB HDD, Win98
---
Tags: Free Need for Speed Underground Free Download PC Game Review