Brutal: Paws of Fury
With all of the heavy-hitting fighting games like FX Fighter and Mortal Kombat 3, there was bound to be a few titles that'll slip through the cracks because they lack the mass appeal or technological wizardry of those blockbusters. Unfortunately, Brutal: Paws of Fury is probably one of those games.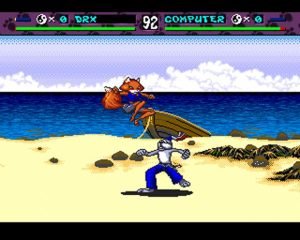 Which is a shame, because Brutal tries to offer a unique spin on the graphic violence of other fighting games with a highly stylized cartoon flavor. Brutal doesn't take itself too seriously, which gives it a built-in charm factor. Instead of the head-ripping and face-stomping you'll find in most traditional fighting games, the furry fighters in Brutal pull off special moves that would be more at home on Saturday cartoons. While it ranks fairly high on the fun factor, once you've gotten your jollies trying out the special moves, the rest of the gameplay just isn't enough to make Brutal stand out from the crowd.
And there are a few obvious flaws; parts of the playing area are obstructed by the objects in the foreground. Sure, allowing the characters to move behind bushes and such may lend the graphics a little more depth, but the game becomes unnecessarily tough when you can't see exactly what your character or your opponent is doing. The animations themselves are nicely done, but at times they simply move too fast, making it hard to keep track of the combatants' movements.
Ultimately, Brutal is merely average as a fighting game; in terms of gameplay, it doesn't have much that you won't find in other titles.
---
System Requirements: Pentium 90, 8 MB RAM, DOS
---
Tags: Free Download Brutal: Paws of Fury PC Game Review