LEGO Racers 2
Significant improvements are present in LEGO Racers 2 when compared to its predecessor. The designers have utilized a totally new 3D engine allowing you to scoot around wherever you want, not just on roads. There are also four new LEGO worlds based on popular LEGO play themes. New sub-games and car upgrades are present, including tires, engines, and shields. An improved destructibility function causes cars to break into individual LEGO bricks on impact; the brick-by-brick demolition of your vehicle leaves you having to run on foot to make a pit stop when you lose your last brick and your vehicle is completely destroyed. Distinctive weather conditions now affect racing environments, including rain, snow, lightning and thunder.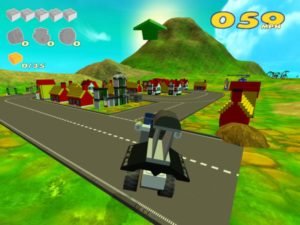 Perhaps the most distinctive feature of LEGO Racers 2 is that, rather than just being able to select your car and character from a fixed set of choices or modify it with generic tuning or painting options, you actually can build your vehicle from scratch. Using standard LEGO bricks and figures, you may easily create a dazzling array of different cars and drivers to your heart's content. There are fewer options for character customization than for vehicle construction, but both provide you with a more than adequate range of flexibility.
An improved power-up system helps racers, including the all-new Golden Brick system: as players race along the courses, they pick up golden bricks needed to advance to the next LEGO world. The game contains a total of 24 tracks (double from that of the original) spread across four different themes – Sandy Bay, Life on Mars, Adventurers: Dino Island, and Arctic; in contrast, the first LEGO Racer had Space, Pirates, Adventurers, and Castle. Although clearly targeting youngsters due to the broad appeal of the LEGO toy lineup, in reality this title is just as appealing to adults and just as challenging as most arcade racers, and indeed would be a bit too hard for many children.
---
System Requirements: Pentium II 233 MHz, 64 MB RAM, 16 MB Video, DOS
---
Tags: Free Download LEGO Racers 2 PC Game Review