Manic Karts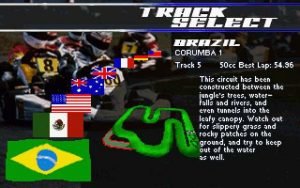 Take SuperKarts, throw in some high-resolution paint, add a few new tracks, buff up the interface, and you have a new game. The only problem with Manic Karts is that it adheres to this idea too rigidly. The game utilizes a third-person behind-the-car view of your go-kart as you motor around the tracks, and it works quite well (except for those times when you lose track of your own car in traffic). The high-resolution graphics look only slightly sharper, and the speed hit isn't worth it.
The track designs are interesting, but only slightly. There's 16 different tracks and they're more complex in design, but incredibly tiny in actual size. There's no elevation changes, and the physics are simplified to the point that grass and snow are indistinguishable (you slide around on either). More runoff areas and a less claustrophobic environment would have been preferable.
The game has the same power-ups as the previous ones, the same pit-stop (enter the pits, slow down, get extra power-ups, and fill 'er up), the same drivers, the same lack of different cars, the same "win money, buy bigger engine" paradigm and the exact same car physics model. The latter isn't troubling, because basically this is still an eminently toss-able racing game; the overrated Screamer should have felt this good. It's also networkable (up to four players), and plays exceptionally well with the keyboard. The low-resolution mode also works on a fairly large variety of machines.
---
System Requirements: Pentium 90 MHz, 16 MB RAM, DOS
---
Tags: Free Manic Karts Pass Full ISO PC Game Review