Marathon 2: Durandal
Marathon 2 is a competent product. It might be a bit dated, however. Despite its sophistication, it isn't terribly compelling. Even on a decent Pentium 133, it is slower and chunkier than Duke Nukem 3D, without that game's seamless, smooth action. The game is just as much a resource hog as Quake, but without Quake's killer graphics and gameplay. And the payback for your investment is disappointing.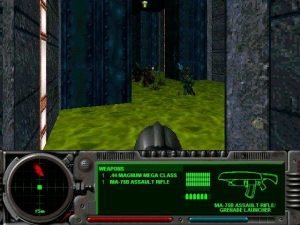 Controls are customizable, but are just short of comfortable and intuitive. The graphics are crisp and clear SVGA, but are also often cartoony; the alien enemies look more like drag queens than terrifying space monsters. And the oh-so-hip manual needs more proofreading. Basically, it's a good 3D action game, but not an epochal event. Stiff hardware requirements, quirky controls, and a lack of anything that's really new for PC gamers makes this something less than the breakthrough game Bungie has promised. Still, it's worth a look.
---
System Requirements: Pentium 90 Mhz, 16 MB RAM, Win95
---
Tags: Free Marathon 2: Durandal Download Full PC Game Review