Hoyle Casino 2006
Hoyle Casino 2006 continues the trend of adding one or two improvements while importing wholesale games from previous iterations. Given that it's a Casino pack, that's probably unavoidable. In all 19 games are offered with numerous versions of each game as well as several tables to accommodate low (5$ minimum) and high (100$ minimum) stakes. The interface is nice, sharp and the games are easy to play because of this. Simple animations and occasional quips from fellow players help liven the atmosphere.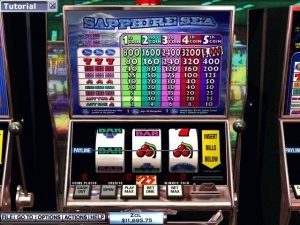 Tutorials are offered up but they're very clumsily implemented, and are nowhere near as polished as the ingame guides that interactively explain each step of a particular game in older Hoyle Board Game packages. Here it's just one long wall of text. Also there's nothing much to buy with the money you earn, although you can track your winnings and loses with the help of statistics page. Still, it's not as fun as buying new face graphics or background music… in fact, changing the default jazz solo would have been more than welcome.
The only real improvement with Hoyle Casino '06 is that it runs on Windows 7, though it's still prone to infrequent crashes every full moon. There's also a face creator, as with other Hoyle offerings of this kind, but it seems buggy or just might not work correctly on Windows 7.
---
System Requirements: Pentium IV 2 GHz, 256 MB RAM, Win98
---
Tags: Hoyle Casino 2006 ISO Download PC Game Review