Leisure Suit Larry's Casino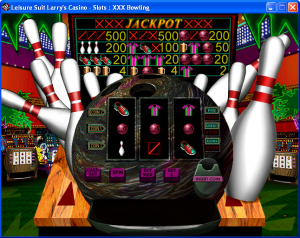 In Leisure Suit Larry's Casino, Larry becomes manager of his own gambling resort, complete with table games, slots, poker, and other multiplayer games. At the time of its release, players were be able to compete against the computer or live opponents for free via WON, Cendant's (Sierra's parent company).
Players can check into the casino's hotel rooms, select an on-screen persona drawn from the cast of characters from earlier Larry games, and then hit the tables. They can play multiplayer poker, blackjack, craps, roulette, slots, or wheel of fortune.
Winners will be paid in "Larrybucks," which can be spent on a variety of things, from virtual gifts and drinks to a visit to the Quiki-Wed Chapel, where invited guests can share a virtual wedding. Players were also be able to visit Larry's Comedy Club, an interactive online joke-telling contest, or play games such as Groupe Grope (a group story-writing game), Pick Me Up! (players write the best pick-up lines, which may be used in a future Larry adventure game) and You Don't Know Dick! (an online word definition game).
---
System Requirements: Pentium IV 1.5 GHz, 512 MB RAM, 1 GB HDD, WinXP
---
Tags: Free Download Leisure Suit Larry's Casino PC Game Review