Hoyle Casino Games 4
Always Bet on Hoyle
This impressive complement of casino games includes eight styles of Poker, twenty two Video Poker machines and innumerable slot machines. In addition, Blackjack, Craps, Keno, and Roulette provide both tournament and solo play modes. Horse Racing fits well as an alternative source of draining dollars next to dice and cards. This package recreates to near perfection the individual sounds, dazzling imagery, and distinctive traits of each different game in the suite. For example, realistic light patterns flash in tempo on Slot Machines in between usage; meanwhile, grainy, smeared renditions of poker cards blip methodically onto the monitor in Video Poker.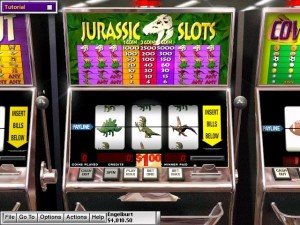 In place of a more conventional list or menu of choices, the game brings alive the gaudy glitz of the typical casino experience with a fully featured casino room, segmented into categories. A minimap of the entire casino floor aids in hopping from area to area quickly. And if not, there's always the simple pop-up menu that gives instant access to any game. New players will find a wealth of hints and tips available for making competent choices with an included Tutorial mode that's considerably more competent this time around.
New features like the FaceMaker component and full screen mode only add further to an already outstanding game collection. A welcome is a very comprehensive player history, which tracks the progress (or regress) of players with overall and game specific statistics. There's also an included multiplayer component, supporting both online and hot-seat modes. Online access is naturally long dead, but you can always add a real person into a game of Blackjack, Roulette or Craps. It's great fun seeing who can rake in the most cash and who plummets into crumbling debt. Best of all, you get to play and master the subtleties of many glamorous casino games without the added risk of losing your life savings. They're good fun all the same, and the sense of despair you get in Poker after losing everything to what you thought was a surefire winning hand is quite exhilarating.
Undoubtedly, Hoyle Casino Games 4 proudly represents the entertaining (and cost ineffective) pastime of gambling with its classy presentation, immersive setting, and extensive selection of games.
---
System Requirements: Pentium 133 Mhz, 16 MB RAM, 100 MB Space, Win 95/98

IMPORTANT:
This is a download button.
Please
READ THIS
before downloading!
---
Tags: Free Hoyle Casino Games 4 Download Full PC Game Review