Jane's USAF
Modern air combat for everyone!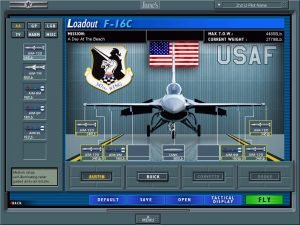 Unlike EA's single-craft sims, such as Longbow 2, F-15, and F/A-18, the emphasis with USAF is not on modeling planes in exacting detail, but rather in modeling the experience of flying a variety of different aircraft. If you've given Jane's ATF a look then you largely know what to expect. Covering campaigns from Vietnam to Europe and regions from the Middle East, USAF lets you hop into the cockpits of eight planes – the F-4 Phantom, F-105 Thunderchief, F-15C and E Eagles, F-16 Falcon, F-22 Raptor, A-10 Warthog, and F-117 Nighthawk.
One thing USAF isn't short of is choices. Whether you're interested in a quick dogfight or an extended campaign, the opportunity's there. If you just want to jump into the action, clicking Fly Now will drop you into a randomly generated instant action air-to-air mission. Quick Missions lets you choose friendly and enemy flight composition, the battle situation, and optional ground targets. If you're new to flying or you want to brush up on your skills, try the fully narrated training series. Like other sims from Jane's, USAF has enough training missions and realism settings to get newcommers interested.
USAF sports four campaigns. In the historical Vietnam and Desert Storm campaigns, you can fly the missions in any order. These missions give you a taste of real combat in a variety of planes (F-105 and F-4 in Vietnam; A-10, F-117, F-15, and F-16 in Desert Storm). The future campaigns, on the other hand, are flown sequentially, and here your results can affect future missions due to supply concerns. Lose too many planes and you may want to mount a resupply mission, bringing in new fighters and missiles while under enemy fire.
In a neat twist, you can also fly multiple planes in a single mission. A sortie might task one group of F-4s to fly cover, while another takes out surface-to-air missile sites to protect a flight of F-105s coming in to destroy an airbase. You can choose to fly in the second group of F-4s, then hop into the F-105s after the SAM sites are destroyed. This also means you can suffer multiple deaths within one mission. USAF might not be the most authentic flight sim you can buy, but it's definitely polished, complex and really entertaining. Experienced players will find it a fun diversion from the workload of deadly realistic simulations, and newbies will be able to tackle it without feeling overwhelmed.
---
System Requirements: Pentium 200Mhz with 64MB RAM, 16 MB Video, Win95
IMPORTANT:
This is a download button.
Please
READ THIS
before downloading!
---
Tags: Free Download Jane's USAF PC Game Review