Grand Prix 4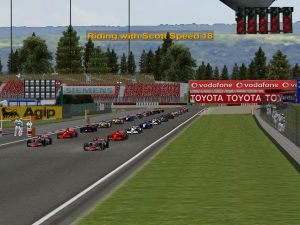 Geoff Crammond was long considered the godfather of Grand Prix racing simulations. Unfortunately, with Grand Prix 4, it was obvious he was clinging to the same graphics and physics engines that was used in past games. This isn't to say that GP4 is a bad game. Far from it — Crammond's sim is a stylish take on the high-octane world of Formula One racing. It delivers some of the savviest AI and best wet-weather effects in the business, and features all 17 circuits and every single driver and team from the 2001 F1 season. Each of these tracks have been rendered in full 3D with the assistance of accurate GPS satellite data.
But it's still weighed down by a difficult graphics engine. Instead of allowing you to set your own floating frame rate, GP4 has a locked FPS setting that you must assign in the options menu; from there, the game determines its own "processor occupancy†value as you play. The result alternates between ultra fast and super slow, depending on the complexity of the surrounding graphics and what computer its ran on.
The absence of any Internet multiplayer options is another significant omission, but it's offset a little by the exceptional AI quality in the single-player game. GP4 also boasts new motion-captured pit-crew animations and a handy new "Gpaedia†reference database for struggling mechanics and F1 newbies. Factor in the game's comprehensive garage menu and beefed-up replay options, and you've got more than enough innovation to entice the faithful into trading up from GP3.
The driving experience certainly isn't unpleasant — there's plenty to keep you busy as you battle with the sim's AI drivers — but it's not going to energize anyone who's experienced the lively vehicle dynamics of F1 2002. Arcade-style black-flag penalties, abysmal force-feedback implementation, and an absurdly uncooperative controller setup menu fuel the frustration. While the AI and sense of speed definitely make GP4 a step forward in the series, the litany of foundation cracks is definitely enough to keep it from attaining greatness.
---
System Requirements: Pentium II 233 MHz, 32 MB RAM, 500 MB HDD, Win98
---
Tags: Free Download Grand Prix 4 Full PC Game Review