F1 Championship 2000
It's easy to confuse Formula One racing simulations because they look and play in a similar fashion. There's UbiSoft's Monaco Grand Prix 2, Psygnosis' Formula 1, EA Sports' F1 2000, Sierra's Grand Prix Legends, Eidos' F1 World Grand Prix and then also EA's F1 Championship 2000. It's a sequel to F1 2000, and it introduces a few new features. Most significantly, you may train to be a professional racer at the new Formula One Driving School. An instructor teaches you driving techniques, where you must pass tests to go on to learn more in the next lesson; you get Gold, Silver, and Bronze stars for completing lessons within indicated target times.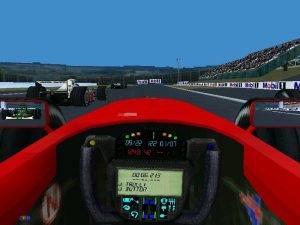 The skills you acquire include managing starts, controlling your vehicle, approaching turns, and executing pit stops; you even have the opportunity to train in the famous Formula One two-seater cars. All told, the training system is outstanding, teaching you all the necessary skills in a practical and easy-to-understand way. Beyond the training, the other most noticeable change from F1 2000 is the inclusion of full wet weather racing and advanced environmental effects. This was in stark difference to the more limited effects of F1 2000, where it was all sunny and nice.
F1 Championship Season 2000 is an officially licensed Formula One product, so expect all of the cars with their corresponding drivers. There are all 17 of the tracks from the 2000 Formula One World Championship season. Drivers include Michael Schumacher and David Coulthard. You also have the option of determining whether all the real-life flag rules of Formula One racing are enforced. As you race, your pit crew gives you continuing realistic radio feedback about your own performance and accidents occurring elsewhere on the track.=, which adds an extra layers of realism you don't often see.
---
System Requirements: Pentium II 233 MHz, 32 MB RAM, Win95
---
Tags: Free Download F1 Championship 2000 Full PC Game Review