Grand Prix II
Quite simply one of the greatest racing sims ever made.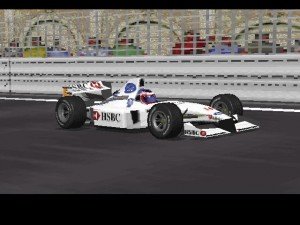 This highly anticipated sequel to Grand Prix took a staggering five years to make, but for a good period around 1996 it could boast as being the ultimate king of racing simulations (surpassing IndyCar II, its main competitor). IndyCar II looked good, but Grand Prix II looks drop-dead gorgeous in comparison, being really at the spearhead of graphical excellence at the time. The car models especially are as close to photo-realism as you could hope to get in '96, and the included sixteen tracks are all fully textured and run in glorious SVGA.
As in IndyCar, you can record your races and view them from multiple angles. Each circuit comes to life with intricate detail, and you can even see pieces flying off of cars, background details, and like the Papyrus simulations, you'll even find numerous sponsors' names plastered all over the circuits. Atmosphere is visually in full effect, and the attention to detail is very good (such as sparks flying off cars, smoke effects and very cool camera angles).
Grand Prix II offers numerous options. If you want to play on full realism then you're guaranteed a tough ride. There are many options that you can toggle to make this as tough as driving in an actual GP race, and the range of customization you can do before each race is quite awesome. You can test out and even save individual setups to see which configuration yields best lap times on various circuits. If you really want to go even deeper, you can check out your Performance Analysis, and put together graphs based on your performance in any given race. This data is gathered from your on-board computer, and it can help you maximize you efficiency in many areas.
Physics are definitely integral to this simulation, and it takes wrecking to a whole new dimension. Hell, you can even blow out a tire or cook your transmission, and hitting a violent bump can quickly get you airborne. The combination of a great driving model, graphics, sixteen real-life circuits and a general attention to detail make Grand Prix II the defining racing simulation of its era.
---
System Requirements: Pentium 90 Mhz, 16 MB RAM, MS-DOS
---
Tags: Free Grand Prix 2 Download Full PC Game Review