Drome Racers
Mix two parts Rollcage with one part LEGO toy-licensing, and you've got this new futuristic arcade racer. Developed by ATD, the same people who built Rollcage for Psygnosis in 1999, Drome Racers draws heavily on the older title for much of its basic gameplay mechanics.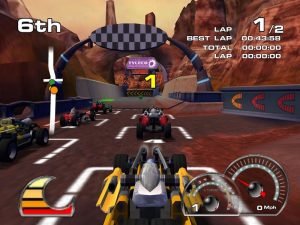 Set in the year 2015, Drome casts you as Max Axel, an up-and-coming driver with the Team Nitro organization, as you drive a variety of race cars based on models from the 2002 LEGO Racers construction toy line. This rather pitiful situation is fleshed out a bit more in the game's Career mode (Arcade and Quick Race options are also available) by a trio of oddly animated characters who dole out largely unnecessary strategic advice. There's also multiplayer but it's limited to split screen matches.
A linear series of stages alternates between paved and off-road racing venues; eventually, you'll open up new events and earn credits to upgrade your vehicle's on-track performance. You can also snag valuable Build Tokens that'll let you design and construct your own cars (in a manner consistent with the LEGO product tie-in).
The tracks are liberally scattered with power-ups and pinball-style acceleration ramps, plus weapons upgrades to use against your five AI opponents. The background scenery is attractive, but the game's floaty vehicle physics significantly undermine the actual driving experience. Though it's unfair to expect sim-like driving feedback from an arcade-style vehicular-combat game, titles like Dethkarz have shown that you can get awfully damned close without scaring off the gamepad set.
---
System Requirements: Pentium II 233 MHz, 32 MB RAM, Win95
---
Tags: Drome Racers Free Download Full PC Game Review