Corvette
Racing games centered on one car brand is always a tough one, but games like NFS Porsche proves that the idea at least has some potential. Corvette is basically a budget version of Porsche, featuring a huge number of Corvette models from 1953 all the way to 2003. The racing is mostly arcade, however, covering a total of some 15 tracks spread across the US of A.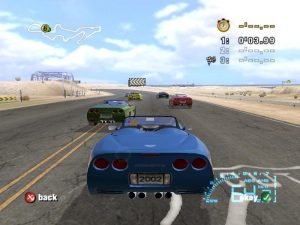 Corvette has several modes of play, ranging from career mode to arcade mode, with multiplayer, quick race, and special event races. Like all facets of the game, these are pretty bare boned. The career mode features a series of linear races held against opponents driving the same car, ending finally with a one on one race against a skill opponent on a closed track. You receive upgrades as you progress, eventually unlocking new cars, but the upgraded versions of each car hardly make much difference from its stock versions.
The arcade mode plays about the same, minus the option to upgrade your car, with the rewards being extra tracks to play on the quick race mode. The game's graphics are fair but not spectacular. The cars themselves, which should be the centerpiece of the entire experience, look fairly bland and stand out negatively in the cool (though perhaps too static) environments.
---
System Requirements: Pentium II 400 MHz, 32 MB RAM, 600 MB HDD, Win95
---
Tags: Free Star Trek Deep Space Nine The Fallen ISO Download PC Game Review