Urban Runner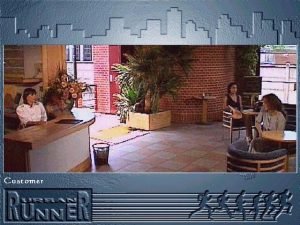 The interactive movie was the all too painful buzzword that dominated 90s adventure gaming – usually for the worst. FMV adventures were many and most were neither good games, nor good movies, but they made money and as such were pumped out regardless. In Urban Runner you play as Max, an American investigative reporter currently living in Paris. Investigating a corrupt law enforcement case, Max plans a meeting with his top informant, Marcos. But Max gets framed, and is on the run from both the cops and some nasty criminals as well.
In harmony with the title, Urban Runner pretty much runs through plot points and doesn't take time to explain too much. I found it quite interesting that once the game was over, you could select each character from the game and hear some background story and explanations of what happened. It would have been a better story if they included some of these background tidbits in the actual "movie" and instead it feels like the writers are giving you a little help understanding the convoluted plot you just witnessed.
Attempting to fit the mold of interactive movie, Urban Runner is primarily a bunch of video sequences squeezed in at half size because of video compression concerns (it still comes in heavy at four CDs). In between video scenes are static screens representing your basic inventory-based adventure puzzler. You'll pick up objects, examine them, use them on other objects on the screen, that sort of thing, all accomplished by the "intuitive 'click and grab' interface", which means that clicking on hotspots will accomplish a required task. Sometimes your click will mean "Pick up the bell" and another time it'll mean "Roll under the jeep".
One innovation to be found here is the inclusion of time-based puzzles. Since Max is on the run from everyone, often you'll have to do some extremely quick thinking and mouse maneuvering in order to keep your adventure moving. While these do add some tension to the scenes, it also adds a heavy dose of frustration. Often you'll have about 10 seconds to complete a task when you really aren't sure what you need to be doing. This will lead to having to replay the scenes over and over again until you finally get it right. Overall quality of the game is passable, but barely – this includes the questionable voice overs. In the end, it suffers the same fate as many other games of its kind – it's not a fun movie, or game.
---
System Requirements: Pentium 90 MHz, 16 MB RAM, DOS
---
Tags: Urban Runner Free Download PC Game Review