2002 FIFA World Cup
It's the world's largest sporting event — the FIFA World Cup, with an audience of millions of viewers. It's a big deal everywhere in the world, minus the US, but that didn't stop EA Sports from throwing in an officially licensed soccer game. The PC version of 2002 FIFA World Cup, alas, is more or less a direct port of the console version. While some fans of the series berated the 2001 version of FIFA for its pinball-like speed (and thus, lack of realism), the sluggish pace and so-so AI here makes it far more harder to play.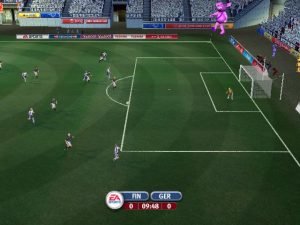 The animations and graphics are top, and it's great that the moves you can make are occasionally smooth, calculated, and authentic-looking. EA even fixed a franchise-long issue of not being able to pull back a ball that's heading out of play. But at the higher of the four difficulty levels, the sluggish controls are frustrating. Add to that constant AI screw-ups (defenders blindly running past attackers, and most distressing, goalkeepers backing away from oncoming forwards so that they can hardly miss), and the World Cup becomes a lottery, not a skillful challenge.
As is common with other EA Sports titles, you can unlock several teams (such as an All-Europe Eleven) by winning the cup, and multiplayer on the same computer is still fun to play. But overall it's still a rushed job, and one that doesn't surpass FIFA 2002.
---
System Requirements: Pentium 90 MHz, 16 MB RAM, Win95
---
Tags: 2002 FIFA World Cup Free Download Full PC Game Review