Syberia II
It's the journey that counts.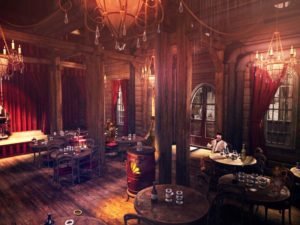 Microids' widely-acclaimed adventure game Syberia was quite an uplifting suprise for the genre. Probably the best thing about it was that creator Benoit Sokal wasn't necessarily creating a game when he conceived it, he was creating a story. The trouble is that the story was too epic to fit into one retail box. So you can think of Syberia II as the second chapter of the saga. Once again you control Kate Walker in a tale that takes her, along with her old friends Hans and his sympathetic automaton, Oscar, through an eastern-European-esque game world.
Now, Kate will be traveling with the whimsical toymaker Hans, as opposed to trying to find him. This time around she has fewer business ties, so the old "cell phone footage†will be greatly diminished. You begin where the original game left you, in Aralbad, and end up in—yes, you guessed it—Syberia.
You traverse several interesting physical environments in Syberia II. You begin in the small frontier town of Romansburg, and proceed to explore a majestic monastery nestled high in the mountains. Then you go deep into the frozen north, later finding a cave village of a primitive people called the Youkol. Although the locales lack the commonality of crumbling disrepair present in the original release, the one unifying theme of all the physical environments Kate visits is that they are all icy and cold, fostering a positive sense of continuity.
While in Syberia Kate underwent a remarkable transformation in her values and life direction, here she appears remarkably static. She is decidedly focused and determined to help Hans reach his goal, not letting any obstacle stand in their way, yet we never really learn why she does this (or, for that matter, why her law firm wants her back so desperately). Not only is Kate a lot less intriguing in this sequel, the same is true for the other characters. Hans goes from being an enigmatic, endearing and multifaceted childlike inventor, to a dull, one-dimensional infirmed old man in Syberia II. Like Kate, he is determined to achieve his goal, and all other values and personality characteristics take a distinct backseat as a result. There is not even an adequate early fleshing out of the reasons behind his quest to help explain further his obsession.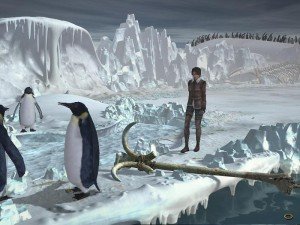 The minor characters fare no better: whether it be Kate Walker's mom and law firm boss back in New York, the slimy Ivan and Igor trying to make money off of mammoth tusks, or the slightly neurotic Oscar, you don't learn anything new about subtleties, quirks, or contradictions that might make them fascinating. While many of the characters you met in the original release were more than a bit dysfunctional, here many are devoid of traits. A little girl named Malka and a dog-like animal named Yuki add endearment, but they are the few. It's almost as if character development hit a brick wall in Syberia II.
Still, most of us who won't scrutinize the story and just take the journey for granted should definitely have a great time with the game itself. One of the things that sets Syberia apart from most traditional adventure games is its astounding integration of puzzle and story. The frequency of puzzles in Syberia II is not as high as in many adventure / puzzle titles, but there is plenty here to keep your brain occupied. Like its predecessor, a lot of the challenges involve Kate getting broken things to work. It's wonderful that the game continues in the same spirit as its predecessor, with all puzzles nicely integrated into both the story and the physical environments.
The psuedo-3D game world also underwent noticeable polish. The snow-swept scenery you'll visit looks as astounding as ever, complete with wonderful minor details such as running water, falling snow or flying birds. Couple the wonderful visuals with an interesting story and you get another classic adventure worth enjoying this winter!
---
System Requirements: 550 Mhz CPU, 64 MB RAM, 16 MB Video, Win 98/ME/2000/XP
IMPORTANT:
This is a download button.
Please
READ THIS
before downloading!
---
Tags: Free Download Syberia 2 Full PC Game Review