Jazz Jackrabbit 2 – The Secret Files
Jazz Jackrabbit 2 is a curious launch for the heavily-hyped über publisher Gathering of Developers. Perhaps it's a shrewd move; rather than launch with a high-profile title that's trying to compete in established genres, it goes out there with a small title for a small but loyal fan base. The game itself is actually pretty good, a well-executed but ultimately semi-hyperactive version of Sega's Sonic series, with fast action and vivid explosions of color and light. The initial '98 release of Jazz 2 lead to this rare '99 Easter special, featuring everything from the original plus one new playable character and bonus episode.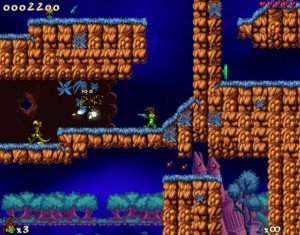 A truly guilty pleasure, Jazz 2 has an incredibly rich feature set for a platformer. It's a typical side-scrolling run-and-jump platform title, featuring three characters, each with its own moves. The game delivers eight full episodes, encompassing both the original and subsequent bonus packs, each with multiple levels, plus a convenient split-screen mode, LAN and even internet play (a first for the genre). The included levels are quite varied and surprisingly complex, though you couldn't really call the combat difficult. Rather, navigating through the world and finding everything there is to find is where the real challenge lies.
The graphics are extremely colorful, the controls responsive and the machine requirements low, making it one of those optimum games to play on a budget system with a big monitor. If you've never owned a console system or aren't already sick of the genre, Jazz 2 is as good a sampling of platformers as any. While it doesn't try to innovate like Oddworld, it can win you over with its unpretentious charms, colorful imagery and simple action.
---
System Requirements: Pentium 90Mhz, 16 MB RAM, 60 MB HDD Space, Win95
---
Tags: Free Jazz Jackrabbit 2 Download Full PC Game Review