NASCAR Thunder 2004
EA Sports is rarely challenged in sports, with their games topping sales charts and enjoying a reputation for quality. But not all of their games are the best in their respective sport. The NASCAR Thunder series continues to show improvement, and it finally comes close to the lofty standards set by Papyrus in its NASCAR Racing series of games, but it's not quite equal to it.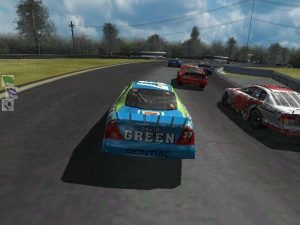 The AI is the clear winner here. Adjustable computer opponents do a great job of racing you without crashing, providing a good dose of realism. Even better, the game features easy network play for up to sixteen drivers. There's very little warping or lag, allowing you to race hard without fear of strange anomalies ruining your race. All of this great racing would be useless without good physics. While the game doesn't break any new ground in car dynamics, it does provide a solid and believable driving experience that can be easily tweaked for the novice or pro player.
The career mode is a new addition and it smartly adds financial concerns to season play. Using money received from a starting investment and sponsorship, you get to decide where to get the most bang for your buck in the shop and then on the track. It's not a full-blown racing-management game within a game, but it's advanced enough that you spend plenty of time trying to become successful both on and off the track
Everything else in the game is passable to great. Whether you are tweaking car setup on a couple of intuitive screens, or just enjoying the general circuit presentation and sound, NASCAR Thunder 2004 is mostly of high quality. It never breaks away from the level of great to become an excellent game worthy of high praise, but also never falls to the level of mediocre. The box is filled with hours of competitive and exciting racing.
---
System Requirements: Pentium III 400 MHz, 128 MB RAM, Win98
---
Tags: Free NASCAR Thunder 2004 Download Full ISO PC Game Review