NASCAR Racing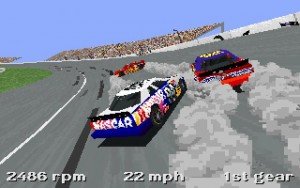 NASCAR has become one of the most successful motorsports ever. Although not as profitable as Formula 1, it does nonetheless boast a huge fanbase, more drivers and even more races overall. With a constantly increasing amount talent in NASCAR, it's no wonder Papyrus jumped at the opportunity to create a NASCAR racing simulator, and what they've accomplished had a profound effect not just on NASCAR in particular, but on racing sims as a whole.
If the actual NASCAR racers vouch for your game then you know you've done something right. This is a true simulation of life in the NASCAR fast lane, from the intricacies of working on your car in the garage to hitting a wall at 185mph. Since every track is different, it is vital that your car be properly configured, else you'll get lapped by the other cars in a heartbeat. Driver info (name, place of origin…) is customizable but more importantly so is your car, whether it's a Chevrolet Lumina, Ford Thunderbird, or Pontiac Grand Prix. Tires, suspensions, gears, fuel quantity and so on can all be changed and include a number of variables.
So How Realistic Is it?
To give you an idea on realism, consider that if you don't have enough fuel in your tank you will experience understeering problems. Tire pressure is another key factor because your tires will not begin to operate at their full potential until they hit 225 degrees Fahrenheit (you can accurately measure tire temperature ingame)…
To have them operate properly for each track, you must inflate and deflate each one according to that track's specs. On some tracks, the middle of a tire will become too hot, so you will have to deflate it somewhat to evenly disperse the heat, allowing it to wear evenly. Spoilers on the front and rear of the car also have some effect on overall performance. The front spoiler is called a front air dam and serves to keep your front end near the ground for better turning performance, but it will slow you down on straight-aways if not adjusted properly. The same is true of the rear spoiler.
Claims have been made that the tracks are slightly inaccurate, but NASCAR Racing is so fast-paced that you won't have much time to look around. Car color and design can be customized to your liking. A paint program is provided to create your own color schemes and patterns, which is probably another first for the racing genre. Last but not least, NASCAR is just good fun with its unbridled destruction modelling.
Although it's not quite Carmageddon, it is nonetheless fun to see virtual cars smashing into concrete or each other. The damage modelling is great – car chunks will frequently fly off after a high-speed crash and what's left will be visibly distorted and considerably less functional. You can even save some of these scenes courtesy of the replay system. All of these make NASCAR Racing a superb racing simulation for its day, so be sure to check it out.
---
System Requirements: 486-33 Processor, 6 MB RAM, SVGA 256 Color, MS-DOS 5.0

---
Tags: Free NASCAR Racing 1994 Download Full PC Game Review