Midnight Club II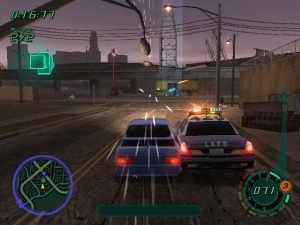 Pretty fast and mildly furious.
Midnight Club 2 markets itself as Grand Theft Auto III meets The Fast and the Furious, but it lacks the sleazy and varied gameplay and cool environments of the former and… well, it actually gets some of the illegal street racing part of the latter right. It certainly emulates the movie in many ways. In addition to the usual pseudo-Japanese cars spruced up with all manner of wings and spoilers, there's even an old-school muscle car that Vin Diesel would no doubt be proud of driving.
While the look and structure is somewhat reminiscent of Grand Theft Auto, it's really just window dressing for what is a fairly straightforward race game. While you can drive around town, a career mode is the main draw. A character tells you about the next race (and badgers you with incessant chatter throughout), and if you get through those checkpoints first, you progress to the next one.
You "win†new cars—i.e. unlock them—though once you get a motorcycle, there's little reason to choose anything else. You also unlock new cities: Los Angeles, Paris, and Tokyo. With checkpoints through each populated city, the racing does get quite, er, "fast and/or furious,†though the grating music only induces the "furious†feeling.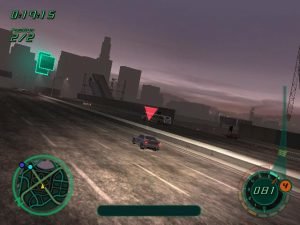 The handling is interesting in Midnight Club 2, in that the cars are all capable of making 90-degree turns at any speed if you're playing with the keyboard. Because of the embarrassingly arcade feeling to the steering, it's incredibly easy to control with a keyboard, but the shell interface enters entirely new realms of horrible—just trying to do simple things like change the resolution is counter-intuitive and reminds you that you're stuck in console land. And it's not just its general console-ness getting in the way, as reviewers of the PS2 version hate it equally.
Midnight Club 2 certainly isn't bad. It has plenty of gameplay and the races are pretty intense. It's just not particularly inspired. It's also amazing how much licensed cars are missed; driving a Saikou XS just isn't quite the same as a VTEC Civic, even if it has fake badges.
---
System Requirements: Pentium III 1 GHz, 128 MB RAM, WinXP
---
Tags: Free Midnight Club II ISO PC Game Review