Paris-Dakar Rally
Hopes were high after Acclaim had acquired the ASO-sponsored Paris-Dakar license and was working on a game based on the rally raid with the same name. Those eagerly awaiting a PC simulation of one of the most famous rally raids in the world are likely to be disappointed, as Paris Dakar Rally mostly comes off as sloppy, poorly made and ultimately destined for the holiday bargain bin.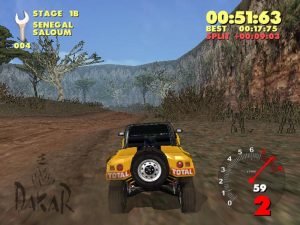 The game, which has most of its features locked out until you go through the mercifully short campaign, lets you race through African tracks in either motorcycle, quad, buggy or 4×4. You can adjust some key vehicular characteristics, like gearbox, shocks, ride height or tire pressure before each race. It promises a fair simulation of the real thing, though things fall apart when you actually enter a race and realize every car from each category drives about the same. In essence, they're all bouncy, floating, high-flying disasters.
The unpredictable lunar physics complement the arcade racing model, since every rock or hill – even the smaller ones, will send your car tumbling over. It's not game over if you tip your vehicle over, since you get a reset function that puts you back into the game. Visually the game is a mixed bag – you can't call it utter crap, but it's definitely behind the times. Sound is much worse, with repetitive music and boring engine sounds. If only the music would turn off during the ungodly long loading times, but no such luck. A lack of multiplayer – even a two-player split screen mode – is the final nail in the coffin for this budget racer. There are better options to be had elsewhere.
---
System Requirements: Pentium 233 MHz, 64 MB RAM, Win98
---
Tags: Free Paris Rally Dakar Download Full PC Game Review