Madagascar
Based on the Dreamworks animated film with the same name, Madagascar is your average movie-to-game adaptation wrapped in an arcade package. You can play Alex the liom, Marty the zebra, Gloria the hippo, Melman the giraffe, and the crafty penguins as they embark on a new adventure consisting of a large number of platforming and random mini-games. The plot of the game is loosely based on the plot from the movie.
The action is fun and simple to grasp, being directed mostly towards younger players. The controls for each of the characters are the same, and the only basic difference between them (as far as gameplay) is the fact that everyone has their own special ability that lets them progress through particular portions of a level.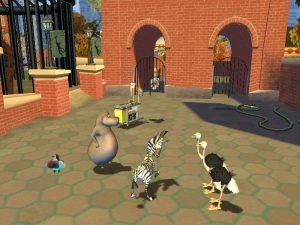 Marty can kick with his hind legs, sneak around his enemies slide and perform long-jumps. Alex the lion can throw fruits, use his claws and roar at his enemies. Gloria can tumble, butt bounce and hip check her enemies. And when she eats some chili peppers, she will be able to charge into her enemies. Melman can spin into, throw items at and head bash his enemies. He can also perform the Helicopter move which enables him to glide long distances. Finally the Penguin can slide, fish and attack with a Finishing move (something like a karate chop) to defeat their enemies.
The obstacles you'll face are all cutesy and non-threatening, the puzzles simple and the humor innocent. You also do a lot of coin collecting along the way which unlocks bonus content. It's all straightforward arcade stuff.
---
System Requirements: Pentium IV 2,5 GHz, 1 GB RAM, WinXP
---
Tags: Free Madagascar Download ISO PC Game Review