Codename: Outbreak
A solid $20 worth of killing aliens.
Codename: Outbreak is a budget game, so you won't find the highest production values. This kind-of-tactical first (and third) person shooter mixes alien infestation with squad-based military action in an entertaining, if not particularly innovative or refined, way.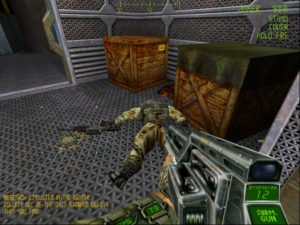 Both the 3D and gameplay are decent. Your squad mates increase their vital stats as they successfully complete missions, and their AI isn't terrible, though they still have an alarming tendency to get in your line of fire at the worst of times. There's a nice mix of pure shooting action with more strategic elements, such as searching bodies, defending civilians, choosing the time of day to take on a mission, and stealthily crossing enemy ground. There's only one weapon throughout, but it's pretty modular – one tap and you turn it into a sniper rifle, another and it's a rocket launcher.
The nineteen missions are tough, intelligent, and engaging, and for the low price, there's plenty of alien-bashing action to go around. The environments are earthbound and usually military in nature, as your squad struggles to mow through ex-human solders and locals who have been taken over by Aliens-like invaders from another planet (they hatch from egg-shaped cocoons and suspiciously resemble facehuggers). Multiplayer options are available as well, including co-op.
Visually, the game takes the middle ground, although the outdoor drawing distances are praiseworthy. The textures get the job done, but everything in the game has a flat, boxy look. There's plenty of ear candy, including regular audio updates from your intelligence network, but nothing in the overall presentation feels particularly inspired.
---
System Requirements: Pentium II 266 MHz, 128 MB RAM, Windows 98
IMPORTANT:
This is a download button.
Please
READ THIS
before downloading!
---
Tags: Codename Outbreak Download Full PC Game Review