Agharta: The Hollow Earth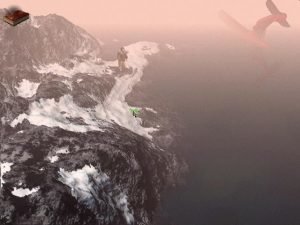 In Agharta: The Hollow Earth, you play a pilot who crashes into an isolated island with his pet dog. The ensuing quest for discovery is a somewhat atypical blend of Myst and Alone in the Dark-ish combat with fixed third-person camera angles, where you explore new areas, fight the local wildlife (everything form bloodthirsty penguins to bloodthirsty monkeys and bloodthirsty giant ants) and find a missing professor who can shed some light on the game's central mystery and plotline – the Hollow Earth.
None of the action will entice fans of either the aforementioned games, however. The camera angles are very often too far away, making it difficult to connect attacks. Instead of conventional 1920s revolvers and rifles, our hero will have at his disposal an inexhaustible supply of rocks, limited grenades and gas bottles. You can also employ the help of your K9 companion.
The controls remain a central issue in Hollow Earth. You navigate with the mouse in a fashion similar to Syberia or any number of third-person puzzle games. The problem is that the cursor isn't dynamic, which is to say it doesn't change to indicate hot spots like pathways to new areas. This also makes finding small puzzle items a bit of a nightmare. This, combined with the clunky combat and only so-so visuals, make Agharta pretty darn unappealing in the long run.
---
System Requirements: P200, 48 MB RAM, 110 MB HDD, Win96
---
Tags: Free Download Agharta: The Hollow Earth PC Game Review