Wipeout XL
Wipeout XL is a simple arcade racing game. The controls are as simplified as the ones from the console version, the game's 3D graphics are blazingly fast and, for a while, it was one of the better-looking racing games around.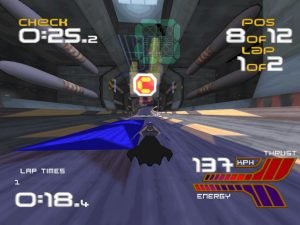 In keeping with its emphasis on style-over-substance, a fantastic intro movie sets the tone. It may well be one of the best ever seen in a videogame (good enough to be used in the music video for "Atom Bomb†by Fluke, which is in regular rotation on MTV). This brings up the music, which in the PlayStation version of the game was good enough to warrant its own best-selling music CD. However, that music didn't make the translation, replaced by good, but ultimately repetitive techno (or electronica, as it's been re-dubbed for US consumption).
Wipeout XL requires an Ati Rage 3D accelerator to work on the PC. As a gameplay experience, its long-term play value is hindered by a lack of gameplay options, vehicles and tracks. But it serves a purpose, and serves it well. A simple but overall flashy and usually fun tech demo disguised as a racing game.
---
System Requirements: Pentium 90 MHz, 32 MB RAM, Win95
---
Tags: Free Wipeout XL Download Full ISO PC Game Review