FlatOut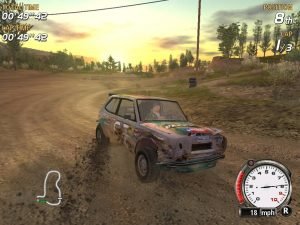 FlatOut is all about fast, reckless driving through a ragdoll-infused world. Unlike the more straightforward and closed courses of your average arcade racer like Need for Speed Hot Pursuit 2, the busy tracks of FlatOut are filled with props left and right. Combine this with a competent physics engine that you must always take into consideration thanks to the many inclines, jumps, sharp turns and bumpy off-road tracks, and what you end up with is an interesting, if somewhat challenging, racing game.
Almost everything on the tracks can be destroyed or thrown around, making it quite easy to accidentally fly off the road and lose your heading. But overall you should indulge in a little bit of destruction, since doing so will generate extra nitrous. Smashing into your opponent cars, who drive very competently, also gives you the same result. Crashes occur often on the tracks, which range from forests, to quarries, speedways or tundras. The only downside is that you have to grind through the career mode to access them outside of network matches.
The cars themselves, which can be upgraded, sold and traded in with better counterparts over the course of the career play, behave quite realistically in each environment. They spin haphazardly when stuck in the mud and skate uncontrollably if caught on ice. Between races you can also engage in bonus games, which feature all sorts of crazy jump stunts and demolition derbies. The tracks could do with extra variety overall, but the fun driving offsets their limited number in the end.
---
System Requirements: Pentium IV 2 GHz, 256 MB RAM, WinXP
---
Tags: Free FlatOut Download Full ISO PC Game Review