Formula 1
A PlayStation port that actually plays nice on the PC.
Formula 1 (the game) traces its roots back to the Sony PlayStation, so it's probably no big surprise that it plays easiest with digital controllers, either keyboard or gamepad (don't bother with analog joysticks or steering wheels). Although primarily an arcade racer, the cars do feel 'right' in some sense, particularly when you're flying down the road at 220 KM/H. They understeer in corners if you come in too hot, and power oversteer is possible if you get on the throttle too early exiting a turn.
Formula 1 includes 17 tracks and the cars and drivers of the 1995 Formula 1 season. Graphically, the game is stunning for a '96 game, with beautifully rendered tracks and vehicles. The game also illustrates a dramatic qualitative difference between Direct3D and 3Dfx-native OpenGL software – the latter features considerably better visuals at a higher frame rate.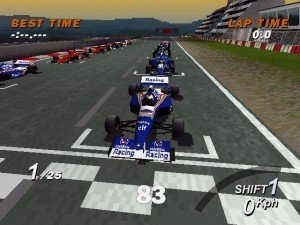 Curiously enough, Psygnosis didn't produce any damage modelling for any of the racing modes. If you hit the wall head-on at 200 KM/H, it's hard not to expect more than coming to a dead stop and breaking a front wing. Another curious omission is the absence of a true in-cockpit view, which should be the preferred driving view. An over-the-car perspective provides a panoramic view of the action, and should be used if you're interested in winning every time – it makes threading through traffic particularly easy as you get perfect vision ahead and behind your car.
Overall, Formula 1 is an excellent arcade game that only lacks a few of the perks we've come to associate with other competing products. Hardcore Grand Prix 2 fans will be disappointed by its simple car model, but in the graphics department it rules, and all things considering it's not a half-bad console port either.
---
System Requirements: Pentium 120 Mhz, 16 MB RAM, SVGA, Windows 95
---
Tags: Free Formula 1 Download Full PC Game Review