Ford Racing 2
The number of Ford-branded machinery on display in Ford Racing 2 seems to suggest an apex for product placement in games. A racing game from Empire Interactive and UK-based Razorworks, this sequel to Empire's 2001 game touts three dozen of the manufacturer's more celebrated sedans, sports cars, muscle machines, SUVs, and even pick-up trucks from the past 50 years.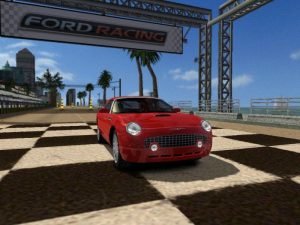 For a single-manufacturer driving game, Ford Racing 2 deals out some unexpected variety. All 35 of the represented vehicles, which range from a '49 Ford Coupe to a 2003 Mustang GT Concept car, receive detailed, high-polygon graphics treatments to faithfully simulate their real-life counterparts. Many of the game's varied track environments are on par with those in A-list arcade racers. You'll find a mix of urban streets, serpentine road courses, high-speed ovals, and even some off-road locales.
The game's arcade roots are reinforced by a mouseless interface, a bare-bones split-screen option, and an unlock-as-you go premise. (The roots show again in the simplified, gamepad-friendly physics, which make every one of these Fords handle like an earthbound jet fighter.) And the absence of any damage modeling is disappointing.
---
System Requirements: Pentium 233 MHz, 32 MB RAM, Win98
---
Tags: Free Download Ford Racing 2 Download Full PC Game Review