Dirt Track Racing: Sprint Cars
Dirt Track Racing: Sprint Cars one of 16 official vehicles, representing four different basic types of car models. The bizarre looking vehicles utilized in this kind of competition appear more like light buggies than heavy power cars, and each has a set of huge roof-mounted wings to keep tires from flying off the tracks at high speed. These vehicles might not look much but they have an impressive power to weight ratio: they each weigh only between 1200 and 1600 pounds and yet have 720 to 820 horsepower engines that can attain speeds over 180 miles per hour, making them quite difficult to control.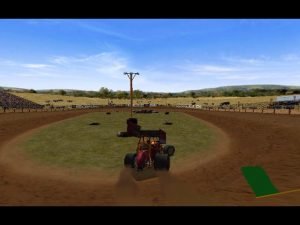 Sprint Cars has 20 tracks in all. You find yourself driving around exclusively oval tracks, with track lengths varying between a quarter of a mile and three quarters of a mile. The tracks vary considerably in width, banking steepness, and dirt/clay composition. Among these are Knoxville Raceway, Eldora Speedway, Terre Haute Action Track, Southern Oregon Speedway, Kokomo Speedway, Gas City Speedway, and Williams Grove Speedway. For each, you may set the number of laps and opponents, level of artificial intelligence difficulty, and track wetness.
There are two single player modes: quick race and career. Quick race lets you choose your car and track for a non-cumulative driving experience — giving you a chance to step in just long enough to get down and dirty and then step out again. In career mode you begin as an amateur driver with limited funds, with your ultimate goal to win the World of Outlaws series. You can earn money both from successful racing and from receiving sponsorships, and spend that money on engine upgrades, entry fees, repairs, tires, or simply buy new cars.
In a unusual move, you can also import tracks from the original Dirt Track Racing (at least for quick race and multiplayer modes if not for the career mode), and doing so is particularly useful because then you may drive on figure-eight tracks as well as the plain oval ones. Regardless, with all the tracks extremely short and with the same shape, a sense of repetition sets in fast.
---
System Requirements: Pentium II 233 MHz, 32 MB RAM, 500 MB HDD, Win98
---
Tags: Free Download Dirt Track Racing: Sprint Cars Full PC Game Review