Dirt Track Racing
As in most racing games, Dirt Track Racing lets drive in a single race or start a complete career. In single races you can pick the track, number of opponents, number of laps and the car you drive. There are about 30 tracks and dozens of cars that look like classic cars from the 60's and 70's. In the manner of Interstate '76, names of cars have been changed to protect the innocent—the Hammerhead looks like a Barracuda, the Lightning a Charger, and so on.
Tuning plays a big role in Dirt Track Racing. Each wheel can have toe in/out changed as well as wheel offset, tire pressure, and brake strength. Suspension tuning includes bump dampening, rebound dampening, spring strength and amount of travel. Add to this the ability to change gear ratios and weight distribution, and you may need a degree in automotive engineering just to get your car configured.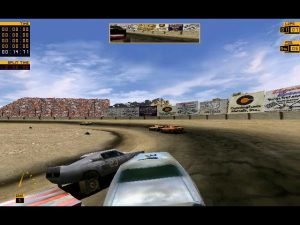 By far the most interesting and innovative part of Dirt Track Racing is the career mode. You start as an amateur with a thousand bucks and some attitude. With this cash you can buy a junkyard car and enter in the lowest car class (Stock). Stock cars cannot be upgraded and only require repairs. You start in a small race series that has low dollar entry fees and low prize purses to match. As you progress, you can take your racing team to Pro Stock or even the Late Model class. These classes allow you to highly modify your car and compete against the best racers for more money.
Each series has a number of race events consisting of heats and mains. Doing well in heats will allow you to reach the mains where the money is better. Tracks are narrow and short with most being about 1/2 to 3/4 of a mile. Unlike other games, incidental contact with other cars has a consequence via repair costs. You really have to try and stay clear of other cars and keep your engine revs out of the red or you'll be paying out all your winnings on repairs. The damage model is realistic and you will notice handling problems and visual effects from close encounters. You can lead an entire race only to have your engine blow on the last lap.
Controlling the car is pretty easy but if you are used to pavement you will have to adjust for the lack of traction in the dirt. Driving while sliding sideways is tricky but you'll have to master it to win races. One dicey control problem to be wary of comes at the start of every race. Races use a rolling start and when you first view the line-up, you have no control. At some point near the start line, you get control, but unless you have the controller perfectly aligned you may end up in the concession stand.
---
System Requirements: Pentium II 233 MHz, 32 MB RAM, Win95
---
Tags: Free Dirt Track Racing ISO Download PC Game Review