Dirt Track Racing 2
Trying to compete in the big league is tough work.
The world of dirt-track racing could be described as the minor league of professional stock car racing. Many of the greatest names in NASCAR worked their way up through the ranks guiding near-wrecks around small dirt tracks in tiny towns across America. Dirt Track Racing 2 attempts to capture all aspects of this gritty sport.
As in most racing games, you can drive in a single race or start a complete career. In single races you can pick the track, number of opponents, number of laps and the car you drive. There are a dozen or so tracks and cars that look like classics from the 60's and 70's. Similar to other games, the cars have been renamed to eliminate licensing fees.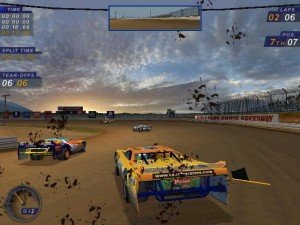 Tuning plays a big role in Dirt Track Racing 2. Each wheel can have toe in/out changed as well as wheel offset, tire pressure, and brake strength. Suspension tuning includes bump dampening, rebound dampening, spring strength and amount of travel. Add to this the ability to change gear ratios and weight distribution, and you may need a degree in automotive engineering just to get your car configured. The manual gives a short explanation of each tuning factor but it would be nice if there were detailed instructions on how to accomplish tunings.
By far the most interesting and innovative part of DTR2 is the career mode. You start as an amateur with a thousand bucks and some attitude. With this cash you can buy a junkyard car and enter the stock car races. Most of the time you make just enough money to pay for repairs to your car, but if you win, you can make appearance money and gain a sponsor. As you progress, you can take your racing team to Pro Stock or even the Late Model class. These classes allow you to highly modify your car and compete against the best racers for more money.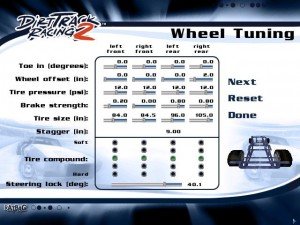 Controlling the car is pretty easy but if you are used to pavement you will have to adjust for the lack of traction in the dirt. Driving while sliding sideways is tricky but you'll have to master it to win races. The game doesn't look extremely complex but then again it's a budget-priced racer, and for that status alone it offers a great deal of content and decent gameplay, running head-to-head with more 'high-end' racing games from the same period. In many ways it's the little guy showing he can compete in the big league, and on some level succeeding.
---
System Requirements: 266 Mhz Pentium, 32 MB RAM, Windows 95/98

Need more help?
Watch this tutorial video.
---
Tags: Free Dirt Track Racing 2 Download Full PC Game Review