Football Masters '99
While largely ignored in the US, football management games have been extremely popular in Europe. In fact, your average American weaned on NHL 98 or World Cup 98 would assume a game centered around the management of a European soccer team would be as exciting as a blind snail race. However, games like Baseball Mogul have shown how enjoyable sports management games can exist, and the world of European soccer provides a rich environment for this type of sim. Football Masters '99 is a good example of just how engrossing such games can be.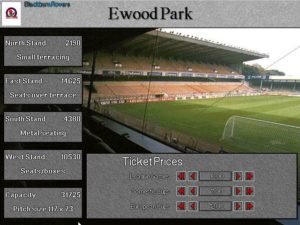 In Football Masters '99 your role is that of the manager of a soccer team, selecting the players, practice strategies, tactics, formations, etc. required to lead them to success. Do well, and your team will have the opportunity to move up to higher quality leagues and receive invitations to various cup tournaments; you may also have the opportunity to move to a job with a more prestigious team. You also are tasked with decisions that are, strictly speaking, more appropriate to a team owner, such as stadium improvements, ticket prices, and player wages.
The only part of the program that is lacking is the depiction of the matches being played: the lackluster screen with player positions displayed, with the ball moving from position to position, isn't that exciting. Even so, Football Masters '99 still has that added layer of complexity for fans of such games to stick around.
---
System Requirements: Pentium 75 Mhz, 16 MB RAM, Windows 95
---
Tags: Football Masters 1999 Download Full PC Game Review