Xpand Rally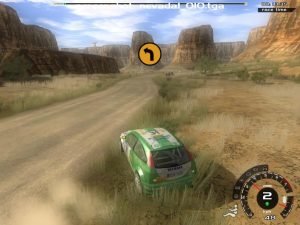 Rally gaming has been around for quite a while and Xpand Rally does a good job at expanding upon it. You get above average graphics in this package alongside the usual offerings in rally racing – tons of upgrades, cars and races. You start off with a stock car and gradually build up your finances and reputation, grinding your way up until you have enough money to upgrade the best available vehicles. The tracks take you through various parts of the world, with the usual snow, temperate and desert themes with varying weather and time settings.
The variety of options make this game more of a sim than an arcade racer. You can tweak your vehicle (you can unlock a total of 35 cars) before each race, controlling variables such as suspensions, tires, steering power, brake balance and much more. Going into a dust track with low suspension will cause your car to bottom out all of the time, which will not only damage the car but also slow you down. The damage system is quite good. Tires wear out, windows smash, and parts fly off realistically.
The tracks are varied enough to keep them from becoming dull, and their also replete with props and obstacles. Almost every object in the game can be physically moved. Large rocks will roll if you ram them too hard, and things like boards and posts bend and break. Tarmac gives good grip capabilities but snow and rain suitably make things more challenging. Another extra aspect is the included level editor to create your own tracks, an option you rarely see in driving games.
As far as off-road racing goes, this one is pretty good. It offers a steep challenge at times, sure, but nothing you can't beat if you practice enough, and the amount of tracks, cars and action is enough to keep any racing fan around for some time.
---
System Requirements: Pentium III 500 MHz, 128 MB RAM, Win98
---
Tags: Xpand Rally Free Download Full PC Game Review