Bandits: Phoenix Rising
Despite its awkward name, Bandits: Phoenix Uprising has nothing to do with petty thieves or fiery birds. Instead, it's a console-like combat driving game. The Wolfpack clan is out for justice with you playing as Fennec and his feisty sidekick Rewdalf. As in most post-apocalyptic worlds, the only things to survive are dune buggy-esque vehicles and surplus weaponry. Throughout the 24 levels, Fennec and Rewdalf find themselves destroying nearly everything, escorting a few things, and running like mad from overwhelming odds.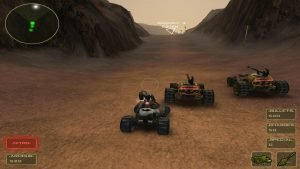 The usual cast of weaponry is present: machine guns, shotguns, rocket launchers, et al. What makes Bandits stand out is its unique control, pretty graphics, and its physics engine. While it's best to play most driving games with a wheel, this game is essentially a third-person shooter on wheels, meaning a keyboard/mouse combination is perfect. You toggle the unique YGWYL (you go where you look) control with a key, meaning driving in one direction and shooting in another is not only possible, but necessary.
It certainly won't disappoint those that have refinanced their home for the latest video card. If you have the muscle, Bandits will take advantage of it, including chrome and bump mapping, pixel shading, and hardware T&L. Only the explosions seem like a letdown after all the eye candy the scenery provides.
The physics engine is also excellent, if a bit over-the-top. While it's possible to tip enemies over or go rolling down a hill in roof-wheels-roof-wheels style, it's almost impossible to sit still. Given the pace of the game, this is a minor issue, but at times, the vehicle is perhaps a tad too jumpy.
The only letdown is the difficulty level. While the first third of the game is passable in a few hours, the difficulty goes from sort-of-hard to pull-your-hair-out-insane without warning. Even with its sometimes infuriating difficulty level (think the last 45-minute-no-break-boss-battle from Serious Sam), Bandits is an out-of-left-field action driving game that satisfies your inner Mel Gibson.
---
System Requirements: Pentium IV 2 GHz, 512 MB RAM, WinXP
---
Tags: Free Bandits Phoenix Rising Download Full PC Game Review